Easter is not just one of many holidays -- it is the Feast of Feasts. So let's get ready!
What can God do in your life with one Bible verse a day?
Subscribe to Aleteia's new service and bring Scripture into your morning:
Just one verse each day.
Click to bring God's word to your inbox
Next Sunday, we will enter this time that our eastern brothers call the "Great Week." It's a good idea to think about it in advance. Here are three things to consider.
1
Do not exclude children (even small ones) from participating in services
The Church offers us the riches of her liturgy. Palm Sunday Procession and the Passion Mass, Holy Thursday Mass, Stations of the Cross and Good Friday service, Easter Vigil and Resurrection Mass: so many opportunities to enter into the mystery of Love of this extraordinary week.
The Christian liturgy not only recalls the events that have saved us, but actualizes them, makes them present. The Paschal Mystery of Christ is celebrated, not repeated. It is the celebrations that are repeated, and in each celebration there is an outpouring of the Holy Spirit that makes the unique mystery present" — Catechism of the Catholic Church, §1104
With young children, it can be difficult, if not impossible, to participate in all the services, although one should not underestimate their capacity for listening, reverence, and prayer. We shouldn't overdo it, nor should we prevent them from participating, in their own way, in their own measure, in the great liturgy of the Church.
And let us not deprive them of the essential event: Easter Mass. We shouldn't use the presence of children as an easy excuse for dispensing with Holy Week services, but don't worry if common sense dictates that we stay at home. Remember that, even without going to all the services, we can still be involved with the children through the family liturgy.
2
Think of specific ways to participate in all or part of the liturgical offices
Will this week be very busy? Will we spend some of these days organizing luggage or be on the road to a vacation? Let's think now about specific ways to participate in all or part of the liturgical services: Where? What time? etc. If we consider these Holy Week services as actually appointments with God we will find the means to be present there, and on time! Above all, we should organize the Easter weekend around the Mass of the Resurrection — and not the other way around!
3
In the face of our hesitation to respond to his call, God remains painfully amazed
Details, organizing … Of course, the material preparation for Holy Week is not the most important thing. But it does set out the points of reference that will allow us to focus on what is most essential. The question is not, in fact, to think of it as a kind of legal obligation (we "have to" go to Mass), but to make ourselves receptive to what God wants to give us.
Through his Church, God invites us. He wants to say to each and every one of us, personally: "See how much I love you!" He wants to make present for us the mystery of the death and resurrection of his Son.
Christine Ponsard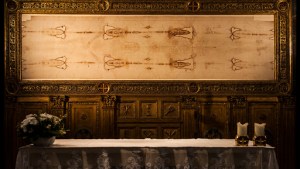 Read more:
Contemplate the Holy Shroud during Holy Week, like St. John Paul II and St. Paul VI did