On this Holy Thursday, a couple cannot evade Jesus' invitation to "wash each other's feet."
What can God do in your life with one Bible verse a day?
Subscribe to Aleteia's new service and bring Scripture into your morning:
Just one verse each day.
Click to bring God's word to your inbox
In marriage, what do we really need? Love above all, because that is our vocation and our nature: we have chosen one another out of love, and we aspire more than anything else to love our spouse and to be loved by him or her. Everything—in our life, in our family, in our commitments—is based on the shared experience of this love and gift: knowing that we are loved in this way changes our life together, transforms it, heals it, unfolds it, illuminates it. Then, everything becomes possible!
Easy to say, of course, but so delicate to keep that balance every day. How can we give love to our spouse without maintaining a vision of hope and benevolence year after year, even as we continually confront the same problems, the same wounds, that discourage us and wear us down?
A little-known experience, especially for couples
We know that love is made of self-sacrifice, of putting one's ego aside, of so many beautiful things that St. Paul praises it for (1 Cor 13). But to achieve all this, to live it, each one of us must convert, struggle, and recover. This is no small matter: it is the struggle of a lifetime! Moaning about our fate leads to nothing; shedding tears undoubtedly helps to soften our hearts, but in order to be able to love, serve, give ourselves, St. Paul exhorts us to "leave behind your old self," and as Jesus said to Nicodemus (Jn 3:1ff), to "be born not only by water, but by the Spirit."
Born by water? We know this is done through baptism, the sacraments, the word of God, the teaching of the Church, etc. But born of the Spirit? This is an experience that is too little known, especially in couples.
"The Holy Spirit is the great forgotten one in our prayers," Pope Francis said a few years ago. Yet it is He who "sets our hearts on fire," it is He who transforms us because He is "God active in us." He alone, by visiting us even in our weaknesses, can allow us to experience the power, the joy and the transformation of divine love, to live it, to radiate it, to share it — first of all with our spouse.
Let us aspire in our marital union to this outpouring of the Spirit, let us await with longing the gifts and divine charisma He wants to grant us: we know of no experience that renews and awakens to this extent the joy, unity and love in marriage. Come Holy Spirit! Hasten to visit us, awaken in us your gifts!
Alex and Maud Lauriot-Prévost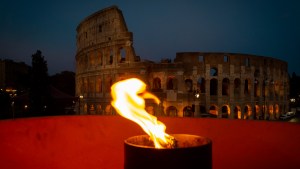 Read more:
Pope teaches how to pray to the Holy Spirit