Do not dwell on the details, but on the love behind them.
What can God do in your life with one Bible verse a day?
Subscribe to Aleteia's new service and bring Scripture into your morning:
Just one verse each day.
Click to bring God's word to your inbox
There is sometimes a misguided reluctance to talk to young children about the cross, for fear of distressing them and giving them a false image of the Christian faith. By itself, the cross is not a pleasant thing: it is the instrument of a particularly cruel form of torture, and one can understand the revulsion of those who look at it without knowing what it means.
If this were an image of someone who had been tortured, or an example of a man unjustly put to death, it would indeed be unhealthy masochism to put crucifixes on the walls of our houses and churches. But Jesus was not a man like the others, and if He was crucified, it was not because He didn't have a choice. As the Son of God, and God Himself, He offered His life out of love for us. He could have destroyed those who put him to death, but He freely chose not to, in order to save them, to save us.
This is why it is important, especially on Good Friday, to talk about it with our children.
Do not dwell on morbid details, instead talk about the love of the Lord
The cross is distressing, and sensitive children can be deeply affected by the realism of some crucifixes or by images showing Jesus covered in blood, exhausted, and in pain. In the interest of explaining how much Jesus loved us, let's not use these kinds of representations, as children risk being marked only by the horror of the torments inflicted on Jesus and being terrified by them.
It is to avoid this that many parents and catechists are tempted to speak as little as possible about the Passion and the Crucifixion to the little ones, passing quickly over Good Friday and going straight to the joy of Easter.
But the cross is not a minor aspect of our faith; it is a central mystery. "We, as St. Paul reminds us, proclaim a crucified Messiah" (1 Cor 1:23). In other words, we proclaim Jesus, who has come to reveal to us the infinite mercy of God. In talking about the cross we do not need to dwell on morbid details, but instead focus on the Lord's love for each one of us: He, the Son of God, the Almighty, becomes poor and powerless in our hands, in order to surrender his life out of love. And the cross is the tangible sign of this love.
Drawing on the Gospel
To help children understand this, let's not rely on the detailed description of Jesus' torments, but on the Word of God. It is not our words that will make them enter into the mystery of the cross, it is the Holy Spirit himself, through what we are saying. The Lord needs us to make himself known to our children, but we are called like St. Paul to proclaim the Gospel "not with wisdom and eloquence, lest the cross of Christ be emptied of its power" (1 Cor 1:17). "I did not come with superiority of speech or of wisdom, proclaiming to you the testimony of God," writes the Apostle. "For I determined to know nothing among you except Jesus Christ, and Him crucified" (1 Cor 2:1-2).
Let us start from the Gospel text itself. For example, each evening of this week, when we pray as a family, we can reread a passage from the Passion. The youngest ones will not listen to everything, perhaps, nor will they understand everything (neither will we), but the word of God will make its way into them. What is hidden from the wise and learned is revealed to the little ones, let us not forget. We can show them a crucifix, which we will honor on Good Friday, in the prayer corner for example. The important thing is to live this in an atmosphere of peace, love and contemplation, not only at the time of prayer, but throughout Holy Week.
The cross cannot be separated from the resurrection
Even though we focus more on the cross on Good Friday and the resurrection on Easter Sunday, each of these two events is inseparable from the other. This is why it is good, especially with young children for whom three days represent an eternity, to finish the Stations of the Cross (when one is made), or the family prayer on Good Friday, by announcing the Resurrection and the upcoming Easter celebrations.
Conversely, if we ignore the Passion of Jesus, what can we say about the resurrection? We run the risk of reducing it to a renewal of life, like that of spring after winter. By wanting to make things accessible to children, we end up betraying them.
Christine Ponsard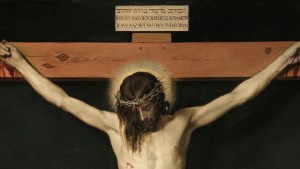 Read more:
Here's how to celebrate Good Friday at home