Growing up in love—love of God, love of others—begins with being yourself.
What can God do in your life with one Bible verse a day?
Subscribe to Aleteia's new service and bring Scripture into your morning:
Just one verse each day.
Click to bring God's word to your inbox
Living in a family means discovering and loving the secret of one's uniqueness. This is how we become free. We no longer live according to the desires of others or according to a personality type, but from the deep call of our person. However, giving your child this possibility to be him- or herself is not easy. But it is possible.
In order to become himself or herself, the child needs love and truth
In his Letter to Families (February 2, 1994) St. John Paul II insists at length on two key words: love and truth. To become his or her true self, the child needs to be able to count on the unwavering love of their parents. They must not be afraid of losing their "merit" simply because the love their parents give them is not "earned" but given freely and unconditionally. It is from God—the model of all parenthood—that parents learn how to love their children. God does not calculate his love according to our merits, but according to his tenderness and mercy, which are infinite.
"Love is patient and is kind; love doesn't envy. Love doesn't brag, is not proud, doesn't behave inappropriately, doesn't seek its own interests, is not provoked, it does not bear grudges; it does not take pleasure in injustices, but rejoices with the truth; it bears all things, trusts all things, hopes all things, it endures"(1 Cor 13:4-7).
"Love," adds St. Paul, "puts its joy in truth": to become truly him or herself, the child needs truth. They need their parents to love them with a love that is as demanding as God loves us, He, who calls us to give more and more because He knows what we are capable of. Denying a child the right to be his or her true self is to lie to them, whether it be to protect or, worse, flatter them.
Why do so many young people today desperately seek the meaning of their lives? Isn't it, among other things, because too many adults are overly pedantic in their language, which is nothing more than a terrible lie? The child and, even more so, the adolescent (despite appearances) needs points of reference. Children need parents who know how to say "yes" and "no" —  parents who dare to take the risk of displeasing.
Becoming yourself doesn't happen in a day
Especially during adolescence, the child's personality is often disconcerting and quite trying, especially for those around them. But this is normal. And the teenager must be able to test, to oppose, to criticize, to fall from one excess to another, while having parents who remain both demanding and merciful. Easier said than done with an adolescent who provokes us, and the temptation is great to fall either into an intransigent severity or into over-permissiveness. Children, whatever their age, need to have real adults who know, when necessary, how to affirm, forbid and impose.
But at the same time these adults must be like the Father of the prodigal son: arms always open, ready to forgive. To forgive, as we know, does not consist of forgetting the fault (which would be a form of lie) but in overcoming it. By forgiving, the parents show that they are not reducing the child to his faulty behavior: they may have disobeyed, stolen, lied, but they are not only a thief or a liar. Forgiveness refuses to put up such labels, which, just as much as flattery, traps the child in a false image.
Only forgiveness—an expression of true love—allows the child (teenager) to walk fearlessly towards the discovery of who he or she really is.
"The profound identity of every man and woman consists in the capacity to live in truth and love; moreover, it consists in the need for truth and love, the constitutive dimension of a person's life. This need for truth and love opens man up to God as well as to other creatures," notes St. John Paul II in his Letter to Families. For it is in giving oneself that one finds oneself.
Christine Ponsard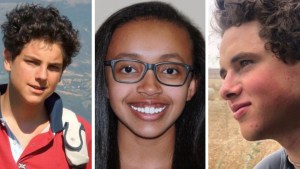 Read more:
6 Incredible youth to inspire your teen in 2021