Here are some tips to help them through this transition.
What can God do in your life with one Bible verse a day?
Subscribe to Aleteia's new service and bring Scripture into your morning:
Just one verse each day.
Click to bring God's word to your inbox
"I don't recognize Christopher anymore! He slams the doors, screams and sulks, argues his brothers and sisters." says Laura, who doesn't know how to handle her 9-year-old son. Claire, another mom, is disoriented by her 10-year-old daughter: "Jeanie is hypersensitive and gets offended over nothing. She spends hours in front of the mirror, dreaming of putting make-up on and dressing like a high school girl. She's already thinking about how she looks." One father says of his son, Coby: "He gets involved in everything, he argues, analyzes, nitpicks all the time. A total pre-teen!"
Pre-teen. We hear the word everywhere. Where did it come from?
For psychologists Bernadette Lemoine and Véronique Lemoine-Cordier, today's child is different and this must be acknowledged and taken into account. "In my practice, I don't deal with the same children at all today," Véronique Lemoine-Cordier analyses. "They are hyperstimulated by a society that moves extremely fast. They take part very early on in everything that happens in the adult world. They master the technology better than we do. They are more intelligent and very quickly grasp what interests them. This makes them want to grow up much faster." Nevertheless, she tempers: "They are experiencing a cognitive revolution, but their emotional and physiological maturity does not follow as quickly." So, how can we help them grow? Above all by not considering him or her as an adolescent, answers the psychologist.
Propose a rich environment
For Father Xavier Piron, between the ages of 8 and 12, "the child has come out of infancy and it seems to them that the world belongs to them. They imagine themselves as a a hero, a pilot, with big dreams. Cheerful, full of initiative, they willingly ask to be of service. They should not be disappointed."
Anne Kolly, Montessori teacher and trainer, has been observing children for more than 25 years: "In this age group, they are looking for the keys to understanding the world in order to be able to explore it, they are interested in the universe, in the history of the Earth. They have great intellectual abilities and can grasp very complex concepts. They also experience social life. This is the age of clans, codes, exclusions." Christopher isolates himself at home, but has a good group of friends at school and at rugby. "The child demands space, more freedom to construct who they are, to develop their powerful intelligence. For this vital energy to unfold, it is essential that the school, the adults, offer a rich and stimulating environment. Otherwise, the child may become apathetic or unbearable."
Today, it's difficult to let the preteen enjoy nature by themselves, to satisfy their need for autonomy. Scouting, camps, and sponsorships are excellent alternatives. They provide measured risks within a precise framework. "Freedom cannot be envisaged without responsibility," reminds the Montessori trainer.
Christopher wants to go on his own by bike to his friends' house a few miles away. His parents will ride with him for the first time, pointing out the dangers and setting a time he needs to be home. Be careful not to give the child a freedom that he is not able to assume, warns Father Piron: "We wouldn't entrust a kitchen knife to a 4-year-old child, we won't leave the child alone on the internet at age 12." For Bernadette Lemoine, freedom has conditions: "You have to be firm with the child, explain to them that setting limits means protecting them, and that little by little, we will trust them more and more."
Help the preteen verbalize what they feel, without judging them
Another essential point: educating for frustration in a society that offers all kinds of immediate pleasures. "The child is malleable, manipulable, it is essential that they learn to choose what is good for them, and this may be less desirable than what tempts them. The education of the will is at stake," advise Bernadette Lemoine and Véronique Lemoine-Cordier. Giving the child everything they ask for keeps them in an illusion of omnipotence.
By learning to choose to aim for what is good, to seek what is true, the child will gradually master their affectivity and learn to manage their emotions. Véronique Lemoine-Cordier explains: "Preteens are often hypersensitive and emotionally fragile. They may have a disproportionate reaction to a pleasant or unpleasant situation. It is important to help them verbalize what they are feeling, without judging them."
Finally, a child's balance depends on their parents' measured authority. If they know how to set rules and are not afraid to establish a vertical relationship with the child, the child will be able to grow up safely. "The word 'authority' has the same root as the word 'guardian,'" concludes Anne Kolly. Without it, the child can neither build him or herself up nor push themselves towards the light.
Solange du Hamel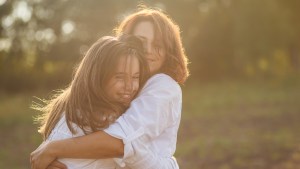 Read more:
Finding hope when you're parenting a pre-teen