Even the blackest day has its silver lining. You just have to learn to see it.
What can God do in your life with one Bible verse a day?
Subscribe to Aleteia's new service and bring Scripture into your morning:
Just one verse each day.
Click to bring God's word to your inbox
Life is rough at times. It can even get so difficult that it's almost unbearable. All over the world, men and women get up in the morning without knowing where to find the courage to face the day ahead — either because they're suffering from depression, or because they have to cope with a serious handicap, an intense illness, crushing financial difficulties, or family conflicts. (Not to even mention the countries where thousands of people suffer war, famine, injustice, and persecution.) And even when one is not burdened with suffering, everyone bears their share of worries, disappointments, and sorrows. No one can escape it.
Misfortune more easily captures our attention than happiness
Catastrophes fill up the headlines, while thousands of beautiful stories go unnoticed. The sadder the news, the faster it spreads — with all its tragic details. Sometimes we take a kind of pleasure in the unhappiness of others, but we also desire to sympathize with the suffering of others, to keep it from festering in its own little bubble. In any case, we risk seeing only the darker points of life, at the expense of the light. Yet even the darkest day has its silver lining — we just have to look for it.
Welcoming the joys of each day is a sign of being realistic
Too often we miss the joys that are offered to us, either because they don't correspond to what we expected, to what we imagined; or because they seem trivial; or, on the contrary, because they frighten us, as if they were too beautiful to be true. Or, finally, because we are entangled in sterile regrets and remorse or eaten away by anxiety, which prevents us from being attentive to what is offered to us here and now. The Evil One always seeks to turn us away from joy, because it is a foretaste of the Kingdom of God.
Joy is not exclusive to optimists, to those who wear rose-colored glasses to embellish the dreariness of everyday life, to the gentle dreamers who banish from their field of vision what is going wrong. Optimism, pessimism, that is not the question. To welcome the joys of each day is simply to be realistic. It is seeing life as it is, discerning the good grain among the weeds and the light that shines in the midst of darkness. At a deeper level, it is seeing life in its dimension of eternity. This is not optimism, but Hope. Jesus conquered evil: joy is the sign of this victory that is already ours.
Becoming attuned to the joys offered to us?
First of all, we must give thanks to the Lord. When we begin to thank God—not in a vague way, but for something concrete, something precise—it is as if we start to unwind a long skein of rolled up praise. Each thank you calls for another: thank you for the smile of that friend we met in the street, for the long-awaited parcel, the peaceful landscape we drove through, the kindness of the neighbors, the moment of peace we felt as we passed by the church. Often, small joys awaken bigger ones, those wonders we forget to think about, which we can enjoy like children: the life that has been given to us, our body with its extraordinary possibilities, our intelligence and all our gifts, baptism, the grace of God … and God Himself.
Joy is welcomed with the heart of a child. It is one of those treasures "hidden from the wise and learned and revealed to the little children" (Mt 11:25). The little ones, those poor of heart that Jesus speaks of, do not look down on small joys, nor on those that do not correspond to their plans. Since they feel that, in any case, they deserve nothing, they are not surprised or afraid to be filled with joy. They simply trust, and do not spoil the day's joys with yesterday's regrets and tomorrow's worries. More than that, they rejoice in the joys of others, without the shadow of jealousy. Blessed are they, these poor of heart, for the joy of the Kingdom is theirs. From now on.
Christine Ponsard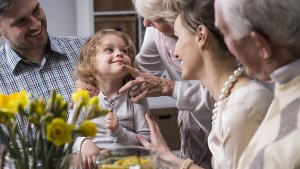 Read more:
6 Inspiring ways to feel (and prolong) the joy of Easter