Novelist Suzanne Wolfe talks to Aleteia about her award-winning novel, "The Confessions of X"
In his Confessions, Augustine of Hippo — one of the most important Church Fathers in Western Christianity — refers to the woman he lived with, his concubine, as "the one." We know nothing about this woman, whom Augustine never names, but a new novel by Suzanne M. Wolfe now gives her a voice. Wolfe's novel The Confessions of X brings to life the concubine Augustine deeply loved and then sent away. Wolfe's life story of "X" not only helps us to imagine who this mysterious woman may have been, but illuminates the world Augustine lived in and brings to life some of the people who most significantly influenced his character and conversion. Wolfe spoke to Zoe Romanowsky about her latest work.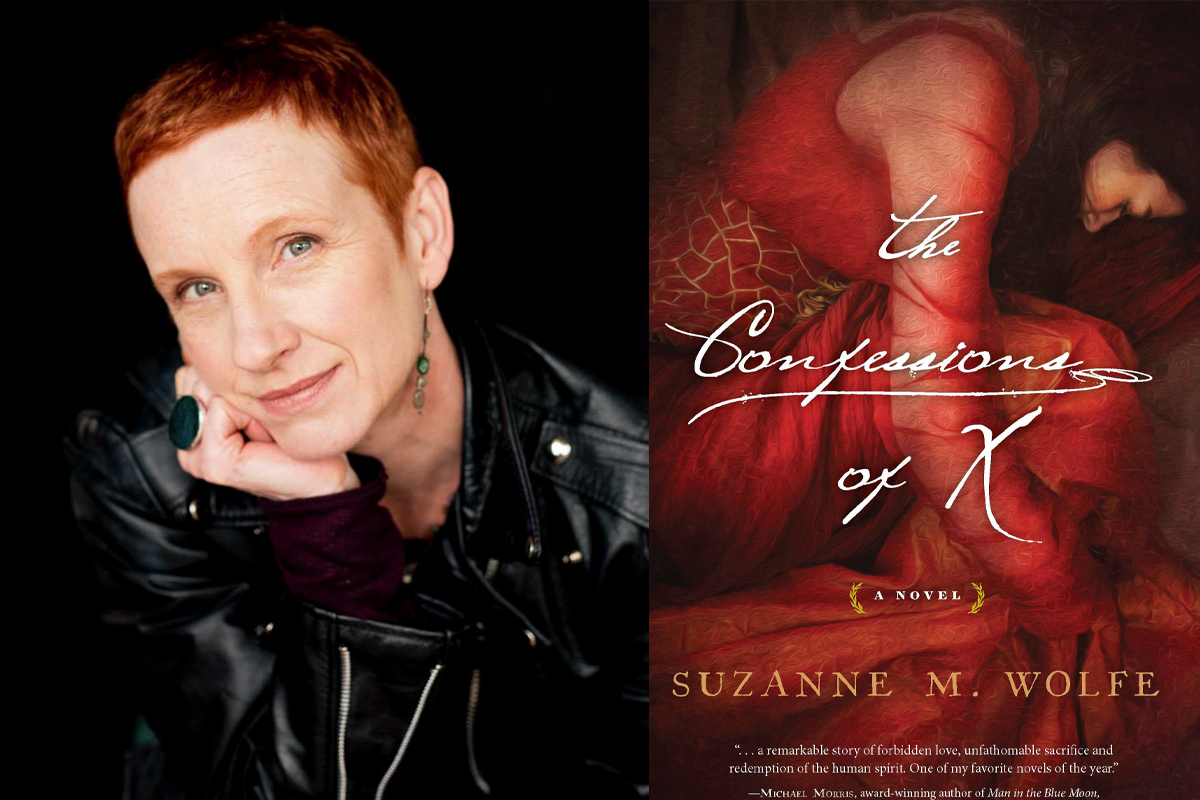 Zoe Romanowsky: What inspired you to write The Confessions of X?
Suzanne M. Wolfe: The seed was planted 40 years ago in religion class at my convent school when I was 12. I remember raising my hand and asking who this mysterious woman was in Augustine's Confessions. Sister Bernadette replied: "No one knows. She is lost to history." That phrase "lost to history" stayed with me.
Over the years, I have thought often of all the great women in history whose lives have been eclipsed by the men they loved. I wanted to give them a voice and as my twin loves are literature and history, I thought: "What better way than in a novel?"
So I decided to go looking for the concubine so she could tell her story. As nothing is known of her—not even her name—my only way to do this was to research Augustine and his works and build up a picture of him. The blank space in the picture was the concubine.
Can you explain what a concubine was then, as well as how the Church viewed the arrangement?
To our contemporary ears "concubine" is synonymous with "mistress" or even "prostitute." In the ancient world this wasn't the case. The reason I liken a concubine to a common-law wife is that concubinage involved a monogamous sexual relationship when the man and woman were not, or could not be, married for reasons of social class or rank. This was almost always due to a man of higher social status falling in love with a woman of low social status.
One of the most famous examples is Caenis, the freedwoman and concubine of the Emperor Vespasian. Frequently, concubinage was voluntary on the part of the woman and her family as it involved a means by which she could attain economic security. To be labeled a concubine was not a derogatory term in the ancient world and was often inscribed on tombstones to denote the status of the deceased.
The Church's stand on these matters evolved over time. Christianity was changing the social customs of the Roman Empire but it didn't happen overnight. St. Ambrose, who was a strict moralist, took a surprisingly lenient view of concubinage by allowing couples in a monogamous but unmarried union to receive communion. This is an indicator that such unions in the ancient world were considered irregular but not immoral per se.
Augustine's reputation, pre-conversion, is one of being reckless and sexually promiscuous, yet he met X when he was 18 (or 19?) and reportedly was faithful to her for all their years together. And apart from a brief affair with this housekeeper after they parted, he was chaste. So, where do we get the notion of him being such a "bad boy" before he became a Christian?
It's a combination of factors. Part of the problem is that Augustine's confessions of sins were always utterly penitent. Augustine will be forever known for his notorious words: "God make me chaste, but not yet." Combine this with the way Augustine has been caricatured as a promiscuous person who then became a repressive moralist. This is sad because his writing—memoirs, letters, sermons, books—reveal him to be a humorous, fiercely intelligent, and passionate man who was brutally honest about his own shortcomings.
In your novel, Augustine seems so good and his relationship with X so idyllic — egalitarian, respectful, kind, passionate, understanding… very unusual for the time. Do you believe he was really so naturally virtuous before he became a Christian and a priest? What were his flaws?
Because there is no historical window into the day-to-day relationship of Augustine and the concubine, I had to extrapolate what I knew of Augustine's friendships and apply it to his relationship with X. Amicitia, friendship, is incredibly important to Augustine and he had a real gift for it as shown by his many letters to a wide range of people.
In a letter he says: "Particularly when I am worn out by the upsets of the world, I cast myself without reservation on the love of those who are especially close to me." Although written after his conversion, it is clear that this expresses what he has always felt about friends. Given that he loved the concubine so deeply, as evidenced by his terrible grief after she is sent away, I portrayed their relationship as a deep, erotic friendship.
As for Augustine's faults: well, I do portray him as continuously restless and dissatisfied. This must have been very hard on X. He was also prone to bouts of depression. Add to this that he lies to his mother and skives off to Italy, leaving her behind! And of course he eventually allows X to go back to Africa, separating her not only from himself but her only son. This is incredibly weak of him. That's a pretty serious list of acts you'd be hard-pressed to call good.
Yet his virtues are clearly discernible in his Confessions and his letters. The scene where X witnesses him tenderly returning a baby bird to its nest is based on a poem he wrote; in the Confessions he says he would weep with emotion at the theater.
I don't think he became perfect on his conversion at all; I don't think anyone does. The marvelous thing about Augustine is that he remained a man. He remained himself. Saints are sinners too. That's what makes them so appealing to us, I think. At the end of the novel, the concubine gives Augustine a kind of obituary, describing him as "the body I have loved, the greatness of his spirit more." I believe Augustine lived up to his name.  
You did such a good job of grounding Monica's ways in her maternal love that I couldn't see any fault in her, which I didn't expect. Was this intentional?
Monica was the hardest character to write precisely because of the stereotype of the mother-in-law. And there is no doubt that she is absolutely relentless in the Confessions. It's a good job I admire relentless perseverance and see it as a plus and not a minus in a character.
I also think that motherhood is an underrated vocation in our contemporary culture, that mothers/women are often depicted as naggers because of the fear that what they are saying is all too true. You definitely get this sense in Augustine's Confessions, which is why he famously gives his mother the slip at the port of Carthage and slopes off to Rome. He just doesn't want to hear it.
What opened Monica up to me was the realization that everything she did and said was out of love for her son. And so I made love the foundation of her character—maternal love. And she shows this to Augustine, to X, to her household and servants. To everyone.
The scene where she and Augustine argue is a crucial one, I think. It shows the conflict between them but it also shows that, despite her anger at her son, she is still striving for his good. When we meet her for the first time she is middle-aged and is no longer the girl who drank too much (this is related by Augustine in the Confessions) or the young wife whose husband was always cheating on her. So, in a sense, we get her character fully formed after her own personal struggles. We see her only as a mother.
How did you come up with character of Nebridius and did I detect that he may have been in love with X himself but sacrificed those feelings? Why did he never marry?
Nebridius was Augustine's friend: he plays a major role in Augustine's Confessions. We are not told why Nebridius never married. In fact, we only have a couple of letters written by him to Augustine. We have more letters from Augustine to Nebridius. It is clear that they are very close—like brothers. And it is clear that Nebridius admired Augustine and looked up to him.
The childhood friendship between Nebridius and X is pure fiction. The great difficulty in writing about people who surround a very famous historical figure is that they become overshadowed by this figure and end up as mere satellites orbiting around him. I wanted to avoid this at all costs. That is why I felt it important to establish a prior relationship between X and Nebridius that was not dependent on Augustine but could exist in its own right.
And that is also one of the reasons why I hint at Nebridius' more than fraternal love for her. His love for both X and Augustine is so great that he is willing to give up his own desires. In a way, Nebridius suffers the most because his sacrifice goes largely unnoticed. He may well be the most saintly, and the most tragic, figure in the novel.
X, as you portray her, is quite a woman — strong, wise, insightful, loving. What was your creative process like coming up with and developing her character?
I asked myself: What kind of woman would fall in love with such a man? And it seemed to me that X must be beautiful (Augustine had a keen aesthetic sense), passionate (Augustine was a deeply sensual man), imaginative (Augustine was a great lover of the arts) and highly intelligent (Augustine was probably the cleverest man of his age and would have quickly become bored with someone much less intelligent). These are all extrapolations that I made prior to beginning writing.
Once I began, however, once I had established X's "voice" in Chapter 1, she took on a life of her own. I feel like X's character—her strength, her stubbornness—revealed itself to me rather than vice-versa.
You just wonChristianity Today's Book of the Year for fiction. Have you had as much attention or recognition from Catholics, and if not, what do you make of that?
I haven't received much attention from Catholic media. Part of it is that my novel was published by a division of HarperCollins based in the evangelical market. While I am greatly beholden to my publisher, the truth is that marketing niches are extremely hard to break out of.
Add to that the fact that in writing about Augustine's concubine I may appear to Catholic readers to be taking a subversive approach to a great saint of the Church. I'm willing to court that impression but I'm hoping that Catholic readers will recognize the deeper sacramental vision in the novel.
X, while she remains a pagan, through her experience as wife, mother, and independent thinker, helps to bring Augustine down from the abstract clouds of his Manichean heresy. Through her humanizing influence he is able to come closer to understanding the mystery of Incarnation, which sets the stage for his conversion. She helps him on his journey to becoming a saint.
The Confessions of Xby Suzanne M. Wolfe can be  found at Amazon.