Although almost everybody needs binoculars to see it, it has been there since the 1980s, when the northwest tower was built.
Some sources attribute the use of gargoyles to a legend linked to the life of St. Romanus, the 7th-century bishop of Rouen. According to legend, St. Romanus managed to subdue a dragon — named Gargouille, "throat," or "gullet" in French — just by showing him the cross. Then, he tied a rope around his neck and took the beast to the center of Rouen, where the dragon was killed and burned, although no matter how hard they tried, its head and neck could not be consumed by the flames. St. Romanus then decided he'd hang the unburned remains from one of the external walls of the cathedral as a warning that would remind everyone evil is constantly stalking, and can only be overcome by the power of the cross.
But of course, this is just a legend. Commonly, authors point out that the use of gargoyles in cathedrals has a pedagogical function. The proper domain of evil lies outside the church, both metaphorically and literally, and evil flees from the church: "The gates of Hades shall not prevail against it." Gargoyles and grotesques are to be found outside the church. It was a way of clearly depicting what one can read in the Scripture, in times when there were very few who could read and write.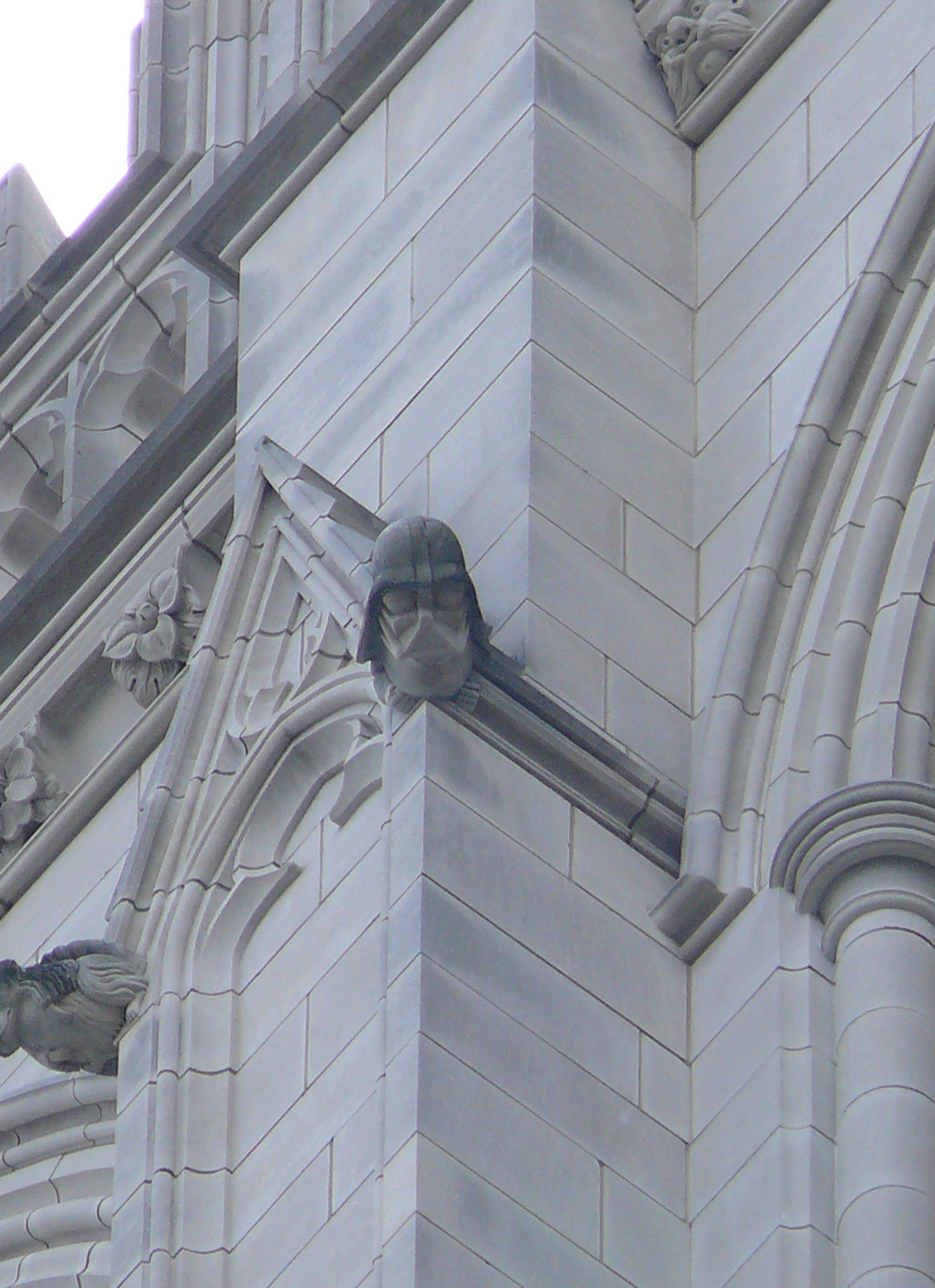 So it should not be that surprising that in a contemporary cathedral we find, among the gargoyles, what may be one of the better known  representations of evil of our times: Darth Vader, the former Jedi who decided to surrender to the dark side. But how did the Star Wars character made its way to the northwest tower of the Episcopal Washington National Cathedral?
In the 80s, the cathedral organized a design-a-carving competition for children, that was spread nationwide via National Geographic's World magazine. Christopher Rader won the third prize for his drawing of the fearful villain Darth Vader. The sculptor Jay Hall Carpenter then sculpted it, and Patrick J. Plunkett carved it. Other grotesques in the very same cathedral include a man with large teeth and an umbrella, and a girl with pigtails and braces.