At-risk youth run the restaurant and get a second chance at success.
Founded five years ago in one of the most economically disadvantaged neighborhood of San Francisco, Old Skool Cafe calls itself a "youth-run, jazz-themed, supper club." Come for the food, which receives rave reviews, but leave inspired when you meet the staff.
Each young person who works at Old Skool Cafe was referred by probation officers from the juvenile justice corrections system. And they really do run the place, according to an article by Kate Schmidgall for Bittersweet Monthly.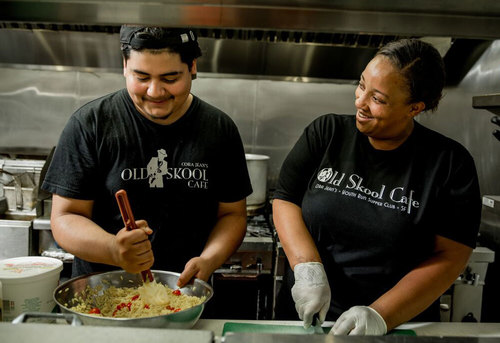 "They do everything: hosting, serving, bussing, cooking, plating, cleaning, ordering, managing … and caring for one another," Schmidgall writes.
The project was dreamed up 15 years ago by Teresa Goines, a former corrections officer who wanted to find a way to end the cycle of poverty, violence and incarceration that afflicts so many young people in California's cities. Goines ran a gang prevention plan in San Francisco, and became familiar with the problems that affect urban youth.
"A lot of young men had a grandfather or dad that have been incarcerated, and some even had babies that they would dress in gang colors," Goines told Bittersweet. "They are born into it. Sometimes all of their family is gang-affiliated, and they're taught that the only way to survive is by selling drugs. It's normal, so how are they supposed to know differently? And they also feel like they are turning their back on their family if they say 'No, I don't want be in the gang.'"
Having a criminal record makes it exceedingly difficult to find a job. Goines founded Old Skool in order to give "young people hope, economic opportunities and training in a supportive environment where they could grow emotionally, physically and spiritually," according to Schmidgall.
Goines told Bittersweet that her "heart and passion" is "helping young people heal at the core, versus punishing them for things they were born into."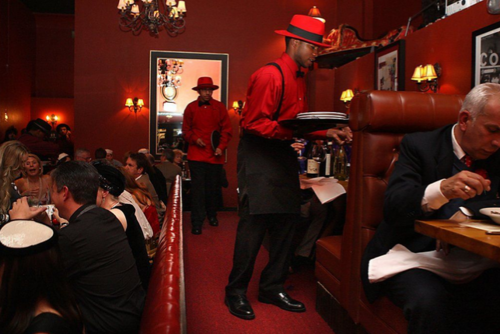 In five years, the data shows that it's been a great success. Bittersweet reports that the recidivism rate for youth at Old Skool Cafe has been just 10 percent, compared to the national rate of 76 percent (according to Bureau of Justice Statistics). Even more encouraging, perhaps, are signs that Old Skool staff have been able to turn their lives around:
So far 92 percent of Old Skool kids have earned high school diplomas and 94 percent are employed or focused solely on school, including thirteen now attending college. Twenty-five youth are currently employed at Old Skool, with another thirty in training each year.
And what about the food? The description in Bittersweet sounds spectacular: fall-off-the bone ribs with chipotle sauce, sweet potato dumplings swimming in a hot chimichurri sauce with portabella mushrooms and smoked dates, and a brownie sundae drizzled in a sort of toffee-caramel sauce. In collaboration with Old Skool's coaches, the dishes are created by the kids and recipes are often borrowed from their own families.
Read the rest of the story here, and make plans to visit.