Priests have always been viewed in the Catholic Church as spiritual fathers, based on multiple passages in the Bible.
The topic of calling priests "father" can be a bit confusing. Jesus is recorded as saying in the Gospel of Matthew, "Call no man your father on earth, for you have one Father, who is in heaven" (Matthew 23:9).
At face value, this would appear to contradict the Catholic custom of calling priests "father." Even more so, that one verse makes it sound like we shouldn't call our dad, "father," and that the only person we can call "father" is God.
What are we to make of it?
In context, Jesus is addressing the hypocrisy of the scribes and Pharisees. Fr. William Saunders in an article for Catholic Exchangesummarizes what Jesus was trying to do.
Our Lord castigates them for not providing a good example; for creating onerous spiritual burdens for others with their various rules and regulations; for being haughty in exercising their office; and for promoting themselves by looking for places of honor, seeking marks of respect and wearing ostentatious symbols. Basically, the scribes and the Pharisees had forgotten that they were called to serve the Lord and those entrusted to their care with humility and a generous spirit.

Given that context, Jesus says not to call anyone on earth by the title "Rabbi," "Father," or "teacher," in the sense of arrogating to oneself an authority which rests with God and of forgetting the responsibility of the title.
Catholic Answers adds to the clarification and explains how "[Jesus] was using hyperbole (exaggeration to make a point) to show the scribes and Pharisees how sinful and proud they were for not looking humbly to God as the source of all authority and fatherhood and teaching, and instead setting themselves up as the ultimate authorities, father figures, and teachers."
This helps to make sense of why Jesus himself sometimes used the title father for someone other than God, including "Father Abraham," the father of the Prodigal Son, and other earthly fathers (see Matthew 10:37). Jesus would be contradicting himself if he intended a strict application of his words to the Pharisees. Context is always the key in interpreting difficult passages.
With that in mind, why do Catholics call priests "father"?
Priests have always been viewed in the Catholic Church as spiritual fathers. St. Paul made this clear when writing to the Corinthians, "I do not write this to make you ashamed, but to admonish you as my beloved children. For though you have countless guides in Christ, you do not have many fathers. For I became your father in Christ Jesus through the gospel" (1 Cor. 4:14–15).
Even the Pope since the very beginning has been known as "papa," which is a Latin term for "father" used by a child.
The term represents the spiritual fatherhood of all priests and how we are their children in the faith. They pass on and cultivate the faith and counsel us as a father counsels his son or daughter. This is one of the reasons why the Western Church still favors celibacy in the priesthood, allowing priests the freedom to be spiritual fathers to the flock God has entrusted to them.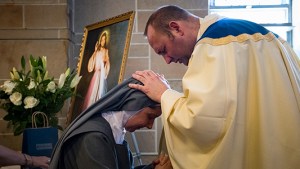 Read more:
St. Therese's prayer for priests (Let's not forget our spiritual fathers this Father's Day)