Well before the United States adopted the eagle as a national symbol, medieval monks revered this noble bird of the sky.
Need an idea for Lenten almsgiving?
Help us spread faith on the internet. Would you consider donating just $10, so we can continue creating free, uplifting content?
Make a Lenten donation here
On June 20, 1782, the recently established United States of America chose the bald eagle as the national symbol. It was chosen for its "majestic beauty, great strength, and long life."
Prior to that, the eagle has had a long history of rich symbolism, particularly in Christianity. Medieval monks highly revered this noble bird and saw in its activities many spiritual insights.
First of all, the eagle was believed to have great eyesight and gaze at the sun without flinching. It is said that the eagle would test its own young by holding them up to the sun to see if they could similarly gaze without looking away. This was frequently connected to the ability of saints to gaze at the true Son and understand his words in the Gospel. For this reason lecterns were often made in the shape of an eagle.
Secondly the eagle was able to soar to such heights that it symbolized the Christian who desired to scale the heights of perfection, drawing closer and closer to God.
Third, there was an ancient belief that the eagle, in order to preserve its youthful vigor, would fly close to the sun, which would burn off a mist over the eyes as well as its old plumage. Then it would plunge into the water three times to restore its feathers. Even the Psalmist speaks of this tradition:"Your youth is renewed like the eagle's" (Psalm 103:5). This was easily connected to Baptism and the resurrection and explains why the eagle is often represented on baptismal fonts.
The eagle also appears in the Bible as a representation of God, who makes the analogy in Exodus, "You have seen what I did to the Egyptians, and how I bore you on eagles' wings and brought you to myself" (Exodus 19:4). The Blessed Virgin Mary is also saved from the dragon in the Book of Revelation by the wings of an eagle (cf. Revelation 12:4).
Saint John the Evangelist is frequently depicted with an eagle, symbolizing the heights of spiritual truths found in his Gospel narrative.
The eagle has a rich history in Christianity and can be found depicted in various churches and Christian art throughout the centuries.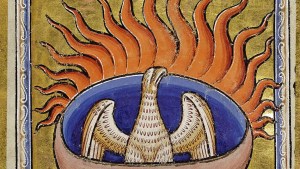 Read more:
This is how the phoenix became a Christian symbol