How my encounter with an extraordinary stranger taught me about Christ's love and humility in a completely unexpected way.
Send us the names of your loved ones who are sick or suffering. The Aleteia prayer network of 550 monasteries will take them to prayer for the World Day of the Sick.
Click here to share your intentions
I could tell from the water dripping down the inside of my sleeve that my beloved raincoat — the very raincoat I'd purchased to cover the papal conclave following the historic resignation of a pope — had finally given up on keeping me dry. My disappointment was not only because I was getting soaked; in a funny way I'd considered that coat a "holy" raincoat. I'd worn it to countless events involving popes, cardinals, bishops, brothers, nuns — you name it. It had protected me from the elements on at least three continents, through every conceivable weather condition, and it had never failed me … until now. What was once a "holy" raincoat was now a "holey" one.
I was increasingly drenched by the drops coming down on 5th Avenue during the Columbus Day Parade, but I smiled to myself thinking, "Well, it could be worse …" In front of me was Cardinal Timothy Dolan enthusiastically greeting the marchers — ranging from the NYC Sanitation Department, the FDNY, NYPD, and Italian-American associations of every sort to politicians and celebrities — all of it. Wet as it was, it was a New York celebration, and it doesn't get much better than that.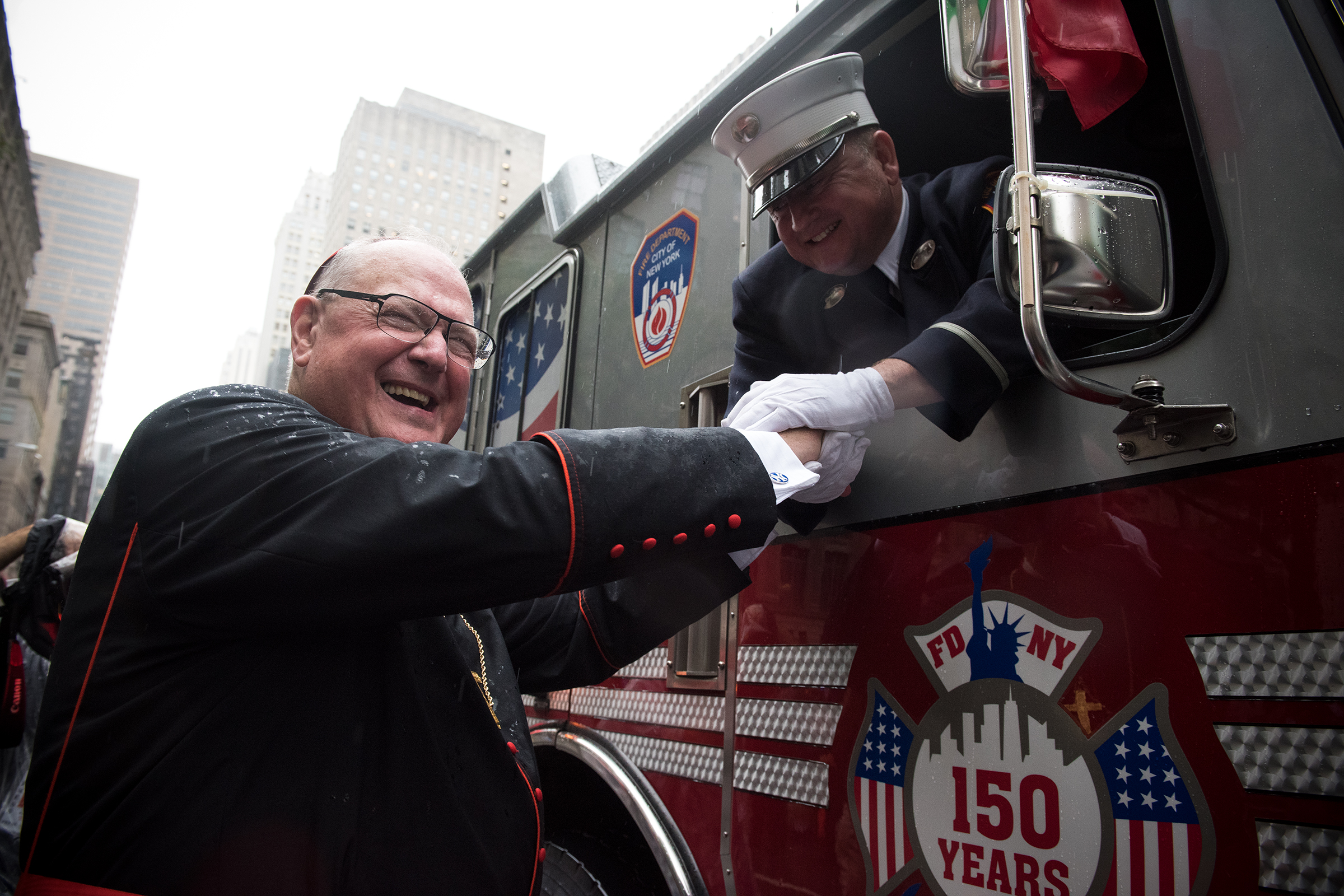 After an hour or so of photographing the craziness, I realized that I was properly soaked. As I backed up from the media fray to catch a breath for a moment, I heard a voice. It was a man who had been sitting by himself on a giant rock in front of St. Patrick's, wearing a cheap plastic poncho and holding a big umbrella.
He moved over on the rock and said to me, "Hey, do you want to sit over here and share my umbrella?" I looked at him, wondering if he was serious — and then my discomfort won out. "Sure," I said, joining him on the rock.
He reached out his hand and asked my name. As I shook his hand, I asked his, and with a big smile he replied "Dominick." We spoke of inconsequential things, as people in the rain sharing an umbrella do. He came across like a regular guy and I treated him that way. But while we chatted it became apparent that perhaps I had been mistaken. People in suits, important people, were coming over and calling him (as best as I could make out ) "Your Excellency," and speaking about (from what I could tell) important things. When one of Cardinal Dolan's security detail came over to check on him, I began to get a little uncomfortable. I had to get back to work anyway, so I thanked him for the brief "sanctuary" he provided me and went on my way.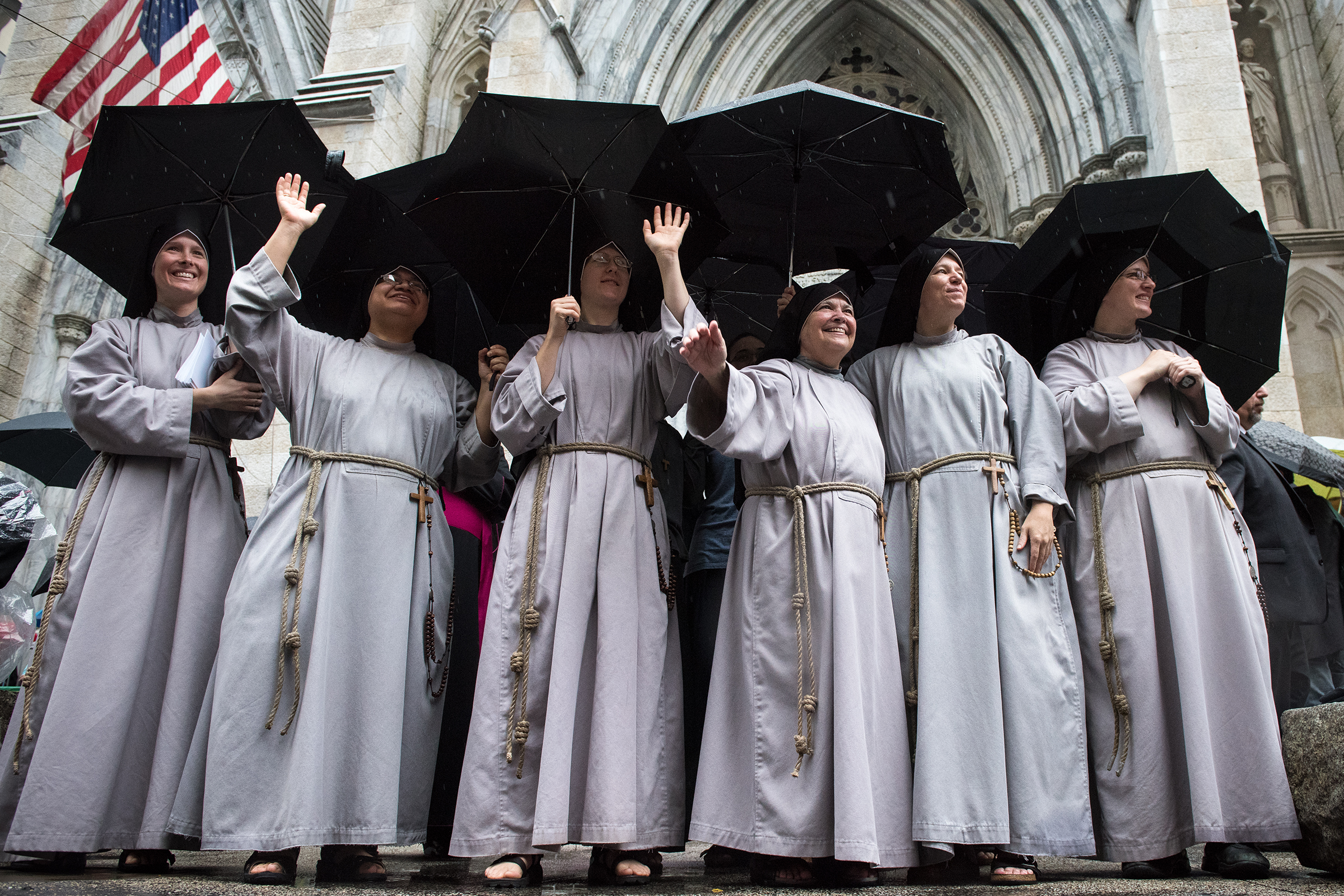 An hour later I ended up near him again and the conversation started back up. He asked me, "Jeff, do you speak Italian?" To which I replied with the only word I know, "Prego!" He laughed and began to tell me a story of when his own command of the language was similarly nonexistent, and how he'd once been at a table with Pope Benedict and several others who had thought that he spoke Italian and would act as a translator. It was a story that I'd heard earlier that day. In an instant I realized who this Dominic was: Bishop Dominick Lagonegro, the bishop who delivered one of the most moving and compelling homilies I'd ever heard, at the Columbus Day Mass at the Cathedral some hours before. In it, he spoke of tradition, our immigrant nation, and Christ's Mercy … it was a breathtaking homily. (Watch it here.)
I felt terrible that I didn't recognize him, but to be fair, it was raining, and the poncho and umbrella … well, it's a far cry from a bishop's miter and vestments.
Read more:
How watching Catholic bishops talk about Catholic layfolk had a surprising effect on me
At the same time, I didn't feel that terrible because I'd experienced something rather startling: A bishop gladly holding an umbrella over a tired, wet photojournalist in the middle of New York City. I really don't know what to say about that. He had extended some much-needed comfort and companionship to a complete stranger and there was something profoundly Christ-like in the gesture. A shepherd tending to a wet sheep.
I asked him for his blessing, and the words he prayed — as eloquent as his homily — nearly moved me to tears.
As I arrived home and hung up my old raincoat, I realized that my faithful companion hadn't let me down after all. It may not be so good at keeping me dry anymore, but on its final day of service, it gave me the gift of an amazing encounter with a man who taught me about Christ's love and humility in a completely unexpected way … I guess it's a "holy" raincoat after all.
Here are some pictures of the day!
Launch the slideshow
Read more:
Why the pope's address to Colombia's bishops was actually directed straight to you