Bishop of Rome resting for day after 10-hour flight from Rome
Need an idea for Lenten almsgiving?
Help us spread faith on the internet. Would you consider donating just $10, so we can continue creating free, uplifting content?
Make a Lenten donation here
Pope Francis arrived on Monday in Myanmar for the first papal visit to the country. He was greeted by Myanmar's political and religious authorities, as well as by crowds of ordinary people who lined the road to the archbishop's residence where he'll be staying for the three-day visit.
Philippa Hitchen of Vatican Radio noted that the crowds turned out despite it being "stiflingly hot here in downtown Yangon."
"Love and Peace" is the motto for this trip, with the logo depicting a multi-coloured outline signifying the 135 ethnic groups that make up this south-east Asian country.
After the 10-hour flight from Rome, Pope Francis had no activities scheduled for today. However he received a "courtesy visit" from the head of the Burmese Army, General Min Aung Hlaing. That meeting was originally scheduled for November 30, but was moved forward. The 15 minute discussion was, according to Vatican spokesman Greg Burke, an occasion to stress "the great responsibility of the country's authorities in this moment of transition."
United Nations officials have called on Myanmar to end military operations that have "led to the systematic violation and abuse of human rights" of minorities in the country's Rakhine state. The army has denied accusations of wrongdoing by security forces.
On Tuesday, Francis will fly to the capital where he'll be welcomed by the president and by Burmese leader Aung San Suu Kyi. Those meetings will be private, and his first address to government officials and diplomats is also to be attended only by selected guests.
The Holy Father will have his first public event on Wednesday when he celebrates an open-air Mass.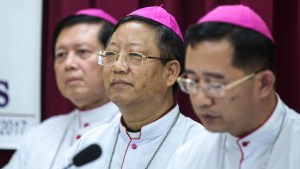 Read more:
What awaits the pope in Myanmar and Bangladesh?