Doing these simple tasks in January will make your life so much calmer when April 15 rolls around.
Now that the holidays are behind us, perhaps the biggest calendar event looming on everyone's mind — or maybe the biggest thing you've been pushing out of your mind — is the IRS. Yes, paying those taxes. For many people, it can be complicated, frustrating, and expensive (if you're not getting a rebate) so we just … put it off. It's only natural. But I'm sad to say that when it comes to taxes, procrastinating is just about the worst thing you can do.
If you start now with just these three baby steps, though, you're going to feel alot better when April hits. Who knows, maybe it will even inspire you to file early this year!
1. Pin this list
And read it, of course. (If you think it's going to get buried in your Pinterest boards, print it out and put it on your fridge.) Then start checking it off, one little box at a time.
2. Make sure you're covered
Though the future of the Affordable Care Act is uncertain in 2018, expert Eva Rosenburg from TaxMama.com advises all families to get their healthcare coverage in order and not to automatically assume that Obamacare will be disappearing come 2018. Penalties for not having insurance are high, and continue to apply for the tax years 2017 and 2018 (recent tax reforms ending the mandate and its associated penalties do not take effect until 2019), so make sure that each family member is covered.
3. Check those IDs
Family taxes are often complicated, so if you do nothing else in January, Rosenberg says this should be step one: Make sure you have all your ID numbers for every single person in the family before you file. If you've had a new baby, or have other circumstances where someone may not have an ID number, apply for those immediately, because without them, you stand to lose tax credits and benefits. (For more tips on filing your taxes, you can listen to Tax Mama's podcast here.)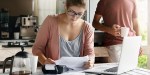 Read more:
Why you should make a financial to-do list for 2018 … and what should be on it