Monsignor Georg Ratzinger speaks of their prayers for a good death in a new interview
Pope Emeritus Benedict XVI is suffering from a nerve disease, which is paralyzing him little by little, according to his brother, Monsignor Georg Ratzinger. The elder Ratzinger revealed this in an interview with the German weekly Neue Post published today.
The predecessor of Pope Francis will turn 91 this coming April 16. His brother is 94.
According to Monsignor Georg Ratzinger, the illness of the former pope forces him to use a wheelchair more and more often. If paralysis reaches the heart, he says, "everything could finish quickly."
"Only God knows if we will meet again," he added, while indicating his wish to be in Rome in April for Benedict's birthday.
In a letter addressed to the Italian newspaper Corriere della Sera on February 7, on the occasion of the fifth anniversary of his renunciation, the pope emeritus claimed to see his physical abilities decline, affirming that he is "on a pilgrimage towards Home."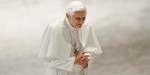 Read more:
Benedict XVI sends a message: "I am on a pilgrimage to Home"


His former secretary, Father Alfredo Xuereb, emphasized that Benedict XVI was offering his sufferings for the Church.
In this short interview, Father Georg Ratzinger also declared that he and his brother have a "great wish" for a "good death," and that he is praying for this.
UPDATE
However, some hours after the German press reported Georg's statements, those close to Benedict XVI in the Vatican said it was baseless.
They said the Pope Emeritus does have difficulty moving but that this is not due to any neurological disease.
Read more here: Benedict's aides: No, pope emeritus does not have neurological disease