There are things parents can do when it gets beyond "normal childhood fighting."
Bullying among school-aged kids has been in the headlines a lot in recent years. Although there's never been a time that kids haven't picked on each other, maybe it hasn't always been as bad as the "one in four'"or "one in three" ratio of school-aged kids that have reported being bullied in recent years. Bullying-prevention programs, combined with a greater awareness of and attention paid to bullying, seem to be helping somewhat, although the more recent phenomenon of cyberbullying has compounded the problem. Two steps forward, one step back.
But what about sibling-on-sibling bullying? All siblings fight sometimes. My own kids at times pick on each other so relentlessly that I'm convinced they are doing it not so much to annoy their sibling as to entertain themselves by watching me crack.
But when does a typical spat between brothers or sisters cross the line into bullying? And what are the effects if it does?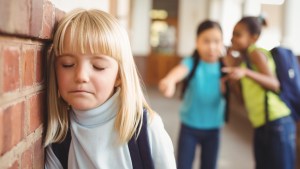 Read more:
Preventing bullying and isolation is easier than you think