"Discomfort is the price of admission to a meaningful life."
You can get Aleteia inspiration and news in your inbox. Our specially curated newsletter is sent each morning. The best part? It's free.
Sign up here
Knowing the difference between optimism and pushing away our feelings can be difficult to grasp. We think being positive will make us happy, but if we sacrifice our emotional capability in the process then we just end up berating ourselves for feeling "bad" emotions, like sadness, disappointment, anger, and grief, with little profit to show for it.
In her Ted Talk on emotional courage, psychologist Susan David teaches us that judging ourselves for having negative emotions and doing the same to others, like our friends or children, prevents us from learning "to deal with the world as it is, not as we wish it it to be."
In response to our fears about feeling our emotions, like the fear of being disappointed or the fear of being uncomfortable, David replied, "I understand. But you have dead people's goals."
She explains, "Only dead people never get unwanted or inconvenienced by their feelings. Only dead people never get stressed, never get broken hearts, never experience the disappointment that comes with failure. Tough emotions are part of our contract with life. […] Discomfort is the price of admission to a meaningful life."
You can watch the full clip below.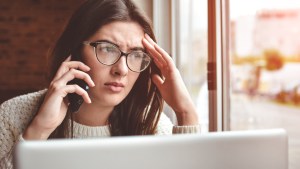 Read more:
4 Common factors that are probably responsible for your bad mood