After years of negotiations, a project is finally underway to rid the sacred West Bank site of unexploded mines from the 1967 Six-Day War.
The spot on the West Bank of the Jordan River traditionally known as Jesus' baptism site will now be cleared of landmines left over from the 1967 Six-Day War in which Israel captured the West Bank.
One of the most popular sites for Christian pilgrims, the site, located on Israel's West Bank at the border with Jordan, is littered with unexploded mines.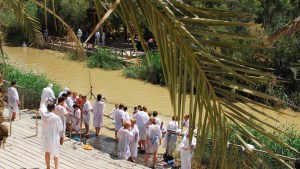 Read more:
Visitors to Jesus' baptism site are warned: Watch out for mines
The $1.15 million mine-clearing project, which was funded by Israel and private donors, is being conducted by HALO Trust, an international mine-clearing charity.
"To see a site that is visited by over half a million pilgrims and tourists each year and for them to come in their buses and be so close to land mines is very unusual," said James Cowan, the head of The HALO Trust, according to an AP report.
"We hope that pilgrims and tourists will be able to visit this site and celebrate the baptism of Christ in the way that was intended," said Cowan.
Israel officials estimate that there are 3,000 explosive devices located at Qasr al-Yahud, where it is believed that Jesus was baptized, and where he began his public ministry.
In addition to the baptism site, the area is home to churches dating back to the4th century, including seven monasteries, many of which remain shuttered as they are not safe to visit because of the mines.
In 2011, Israel cleared a narrow road to the Jordan River in order to allow tourist buses to visit the site. The announcement of the mine-clearing project comes after years of negotiations among the different churches that share custodianships of the Holy Land sites, the Israeli government and the Palestinians.
"We have been demanding the removal of these mines for a long time," Majid Fityani, the Palestinian governor of Jericho said, according to the AP. "We are interested in removing these mines that were planted by Israel because this is our land."
"We pray and hope that the clearance of land mines around the baptism site will contribute to peace and reconciliation in our region, which is very much needed at this time," Theophilos III, the Greek Orthodox patriarch of the Holy Land, said in a statement. "We are glad that after many years, pilgrims from around the world will be able to fully experience and venerate this holy site."