He'll only meet the risen Lord if he meets Him through people who know Him.
He sat on the other side of the round bar talking to the bartender, in a loud voice that carried over the sound of the television, and there was pain in his voice. I'd come down to watch the college basketball championship because we don't have a TV, and the bartender had put me in a seat at the end and turned the TV over it to the game. The other TVs and the audio were set to the news, which was grim. One big story featured a woman who ran a brothel in her apartment, in front of her young children, and another a fireman who went on a call and found his own son dying of a gunshot wound.
The man across the bar says he's 47. "I was on Ritalin, back in the day," he says. He describes youthful feats of drug-aided sexual endurance and the deadening effects of his latest medicines. He talks about living with ADHD, though he doesn't use the term, with stories of lost jobs and broken relationships anyone familiar with the condition will recognize. His miswired brain has screwed up his whole life.
That was my Easter Monday evening experience: Listening to a man sharing the painful story of his life with friends and strangers, while Villanova drubbed Michigan and the news blared grim stories. On the way home, I thought: He doesn't know Easter.
You don't live your own life
If he's ever going to know it, he's only going to know it through people who do. He probably has only a distant, and maybe a broken, relation to the Church and her story. He'll hear the story of the Resurrection as we hear any instructive, moralistic childhood tale: as nice, maybe, but sentimental and irrelevant and definitely untrue. He'll only meet the risen Lord if he meets Him through people who know Him.
My friend Wesley J. Smith wrote once on Facebook: "One of the joys of marriage is that you don't just live your own life, but participate in your spouse's." That's very true of marriage as it should be. Mutual love creates an interpenetration of lives, and you feel the things they feel, which you wouldn't feel if you didn't love them. You may find greater joy in life that way, but also greater pain.
In turn, marriage offers a model or paradigm of the life of Christians together and more to the point here, of the lives of Christians in the world. That explains a lot of the biblical instructions on how we're supposed to live. That weep while others weep business, for example. It's not a metaphor or an ideal. St. Paul means it. He means cry real tears when others cry and whoop it up when they whoop it up.
It's very hard to do this for people we don't really know. We have to ask ourselves: Do we truly weep when others weep? Without thinking "I'm glad I'm not them" or "They deserve it"? And rejoice when they rejoice? Without thinking "I should have that" or "They don't deserve it"? Can we share someone's life without the intrusion of ego?
That's what God speaking through St. Paul asks. That poor man in the bar, he's hurting. If he's hurting, we should hurt with him. Entering into other peoples' lives will often be a Good Friday experience.
An increase in love
Not fun. But Good Friday has been redeemed by Easter. Jesus gives us Easter, and Easter's what we have to give others. It's also why we can share their Good Fridays.
Dorothy Day wrote in her diaries, "I have always prayed for an increase in love and surely that prayer is granted. 'Ask and you shall receive.' Surely to love people with faith, hope, and charity, not to judge them (tho this does not prevent us from judging the situation) is not to love them in sticky sentimentality, but to know them, and to see in them that reflection of God which is in every man."
It's a prayer we all can pray. "If we look around us," Pope Francis says, "we find people who would be willing to begin — or begin again — a journey of faith were they to encounter Christians in love with Jesus. Shouldn't we and couldn't we be these Christians? I leave you this question: 'Am I truly in love with Jesus? Am I convinced that Jesus offers me and gives me salvation?' If I am in love, I have to make him known."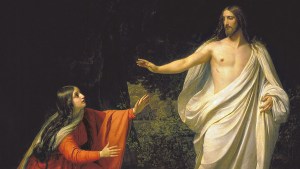 Read more:
5 quotes from recent popes on the joy, beauty and necessity of evangelization