The musician and mother of two says forced seasons of inactivity are necessary.
In a recent Instagram post, musician, speaker and soon-to-be podcaster Audrey Assad spoke to the dueling forces that dwell within the artist mom … all while pumping breastmilk in her car.
"I'm in this season where my fields feel very fallow," Assad admitted, "fallow fields are resting in between crops … you have to rest your dirt every few years so that they can sustain long-term planting […] Art is definitely not an exception to that."
Having just released her latest album, Evergreen, last month, the mother of two young children reflected that forced seasons of inactivity are not merely circumstantial … they are necessary.
"If your fields are never fallow," Assad said, "they will never be as fertile as you want them to be or as they ought to be."
We can all take heart in the knowledge that even though we may feel discouraged with having our hands tied in one area of our life, that powerlessness can and does often work for us. Often in the same way we can't control the periods of forced inactivity, we also can't control the seasons of unfettered growth. When we let go, the growth and the fruit often come as an overwhelming surprise.
"If we can learn to live with open hands around what is, we don't experience the severe pain of disappointment that comes when expectations don't match reality."
A life where each season is embraced is a fruitful life, case in point: Audrey's album Evergreen.
See the full video on Audrey Assad's Facebook page below.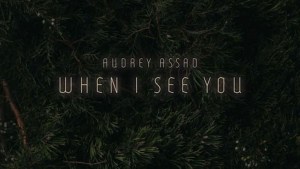 Read more:
Audrey Assad hopes new single offers "healing oil" for the wounds of her listeners