Thinking "positive" doesn't always work, but here's what can ...
Nearly 1 in 5 Americans experiences a mental illness of some kind, and nearly half of all chronic mental health conditions begin by the age of 14, according to NAMI. While approximately 6.9 percent of U.S. adults experienced at least one major depressive episode in the past year, the most common difficulty is worry and anxiety.
One of the most popular ways to combat worry is with "positivity." Often, if a friend or loved one is struggling with anxiety, someone will tell them to "look on the bright side" or "think positively," but this isn't always the best way forward. Excessive positivity is apparently more counter-productive than not, and refusing to acknowledge uncomfortable emotions suppresses them, making them all the more powerful.
So if you're tempted to lean on a "positivity" crutch, try these techniques instead:
Write it out. Try venting everything that is worrying you or stressing you out. This can be by writing it down, or you can ask a friend or loved one to sit and listen. But make it clear that you aren't necessarily looking for a solution, so much as an open ear.
Name your thoughts. You know that voice in your head that criticizes you all the time? In an article for Today, one person with lived experience suggested giving him/her a name. It can be something as simple as "my anxiety voice" or "Mr. Self-Conscious" to help you identify when your thoughts are verging on the irrational.
Think about the worst. This one might seem counter-intuitive, but it's necessary to face your fears. Imagine the worst possible outcome of a situation, but remember that you are capable of handling it. If that actually happened, what would you do? Once you realize that you can handle it, you can be less afraid.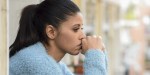 Read more:
This Twitter thread explains social anxiety perfectly