We might not have done things this way, but you gotta admit, God is creative in his solutions.
Recently, Bishop Robert Barron, auxiliary of Los Angeles, was

interviewed by his Word on Fire colleague Brandon Vogt

on the scandals that have shaken the Church in recent months. The interview concluded with Vogt asking the bishop how Jesus fits in to all of this. Bishop Barron then shared a wonderful reflection on the mystery of evil, the mysterium iniquitatis. I quote him at length:
One of the great mysteries is what they call the

mysterium iniquitatis

—the mystery of evil. There is physical evil—the mystery of why innocent people die in hurricanes and tsunamis and so on—but then this maybe even more troubling issue of moral iniquity.

Why does God permit it? The classical answer of our tradition is that God permits certain evils to bring out of them a greater good. Therefore we should always look at what is the possible good that might come of this evil situation.

What are the signs of life we could look for? How is Christ cleansing and purifying His Church? See, to me, this time witnesses to Christ. It's not a sign of His absence. It witnesses to Christ. Think of John the Baptist when he announces the coming of Our Lord—'His winnowing fan is in his hand.' He's separating chaff from wheat; he's purifying—a harsh process.

Is the Christ who purifies His Church now at work? Yes, I would say, as a good Thomist, working through secondary causes—like, for example, the indignation of the Catholic people. Like, for example, the anger of the laity. Like, for example, the anger of priests and bishops at their brothers who have done these terrible things. Like, for example, this investigation team that I hope gets formed. Christ with his winnowing fan and working through instrumental secondary causes does his work of purifying the Church.

So, engage with Him, I would say. The Christian life is not an abstract philosophy, it's friendship with Jesus, a relationship to Him. How is Christ alive in His Church today? Precisely in this cleansing mode.

He also says, in regard to Himself, 'I am the way, the truth, and the life.' What's repugnant to the truth is repugnant to Him. What is congruent with the truth is congruent with Him. The closer we get to the truth of things, the more we're cooperating with the Lord who operates in His Church.
Deep and powerful words from the bishop. Let's break that down a bit.
The mystery of evil is simultaneously one of the most profound and confounding, one of the deepest and darkest, one of the most challenging and most central aspects of our faith. The very existence of evil would seem to eliminate the possibility of an omnipotent and omnibenevolent God. (In fact, in his Summa Theologiae, St. Thomas Aquinas lists this as one of only two objections to the idea that God exists.) Yet the presence of evil is a fact in our world, and far from being rendered obsolete, it can be rightly said that Christianity would not exist without it. What do I mean?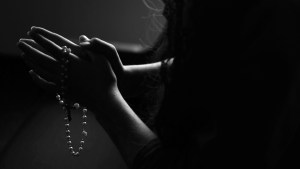 Read more:
What is reparation? And why is it my best response to evil?
First, the central fact of humanity is that we are fallen. We are imperfect. We are not as we know we ought to be. Every human being, to varying degrees, acts in ways contrary to our own nature and our own happiness. We know there is something wrong, and we know we are powerless to stop it.
Second, it is this brokenness, this bentness of the world and humanity that Christ comes to fix. Christ assumes our nature in order to restore it. In the person of Jesus, God Himself enters His dysfunctional creation and sets about the great clean-up of the world. It is thus because of our sin that this great miracle, the Incarnation, takes place. (Fathers and theologians disagree on whether God might have incarnated without sin, but let that pass for now.)
Third, not only does God come to redress the evil we do, but He uses that evil itself as the very instrument by which we would be saved! God did not wave a wand and restore everything to the way it was, nor does He simply declare us innocent without actually making us so. God does not dabble in legal fictions, and He does not give us cheap grace. God would meet our sin head-on and conquer it, not through overpowering force, but through submission—not through power, but through weakness. In Jesus, God empties Himself, and undergoes death, and in that He conquers death. He makes death, the punishment for our sin, into the means by which we are saved by sin.
This is not how we might have done things. This is not what we would expect. But "the foolishness of God is wiser than human wisdom, and the weakness of God is stronger than human strength." (1 Corinthians 1:25)
Thus, in His own suffering, Christ shows us the meaning of human suffering, the possibility contained within it. God allows moral evil because He gives us a choice; and even when we choose wrongly, the consequences can still serve as a corrective, as a call back to God.
And when we suffer evil, we, like Christ, can offer that suffering for the purification of ourselves and the world. We can use that moment of pain as the catalyst for the change that the world needs, a spiritual adrenaline rush that activates our instinct to fight for the good, fight for holiness, fight for the faith. We can let that moment of suffering transform us into the wheat that will be ground into pure bread for Christ, as St. Ignatius of Antioch put it long ago.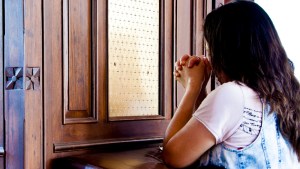 Read more:
The priest ended my confession with this prayer and wow! It's so beautiful!
A mystery in Greek, a mysterion, is something hidden. The opposite word, a revelation, is an apokalypsis. These days may feel apocalyptic at times, but they reveal the power of God, of Christ with His winnowing fan, that in the Church's darkest moments, Christ remains the light of the world, and the darkness cannot overcome Him.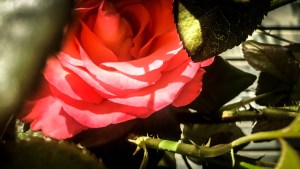 Read more:
How St. Therese gave me incredibly unexpected and delightful news about "offering it up"