If the scandals tempt you to distance yourself from the Church, she has a lesson for you.
Many saints have faced trials similar to the ones we're facing now, and revealed light in dark times.
One of these is St. Catherine of Siena. This Doctor of the Church sought through letters, through prayer, through engaging the leaders both political and spiritual of the day, to address the wounds of the Church.
In flipping through my copy of Sermon in a Sentence: A Treasury of Quotations on the Spiritual Life, I found in her words comfort and reassurance as to how we are to proceed.
This pithy Doctor of the Church's words were just what my soul ordered. She tells us how to hold onto the gifts of the Church, even if we're angry. After all, we cannot stay away, or we will lose the Eucharist, Christ Himself, and the other sacraments.
Catherine tells us:
You know well that if a filthy and badly dressed person brought you a great treasure from which you obtained life, you would not hate the bearer, however ragged and filthy he might be, through love of the treasure and of the lord who sent it to you … You would be anxious through love of his master that he should be cleansed from his foulness and properly clothed … Thus I wish you act with regard to such badly ordered priests.
She understands the frustrations many of us feel as we weather the storm of scandal. "Take courage," she says, "because God will not scorn the tears and sweat and sighs poured out in his presence … Among the thorns I smell the fragrance of the rose about to open."
For those who can't yet pray for forgiveness, St. Catherine reminds us: "Whatever you do in word or deed for the good of your neighbor is a real prayer."
And she warns, "Hatred of our neighbors is nothing less than an offense against God. So we ought to hate more the fact that we hate, since First Truth is offended by it."
So, "Let us endure, let us endure … no suffering will be so richly rewarded as weariness of heart and spiritual pain. These are the greatest sufferings there are, and so they are deserving of greater fruit."
We are being offered in this time and place in history the opportunity to produce great spiritual fruit by our faithfulness in prayer and in practice.
She tells us: "Have no other wish than to be conformed with Christ crucified, always following in His steps, ablaze with love for virtue."
And: "Respond to the call and loving mercy of the Holy Spirit who summons you so gently, who makes God's servants raise their voices in your behalf before him, that you may be granted the life of grace."
Let us get to it.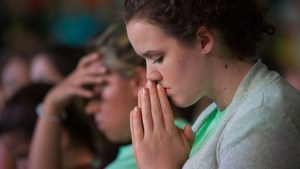 Read more:
Here come the protagonists of the Church's Act 3, and it's exhilarating