"The Resurrection" portrays Jesus emerging from a nuclear apocalypse.
Photos of a little boy interrupting Pope Francis' weekly audience to tug on the white-gloved hand of a Swiss guard have been all over the internet for the last few days.
The images show an amused Pope Francis seated in an austere marble hall. Some have taken to social media to ask what's pictured behind the pope.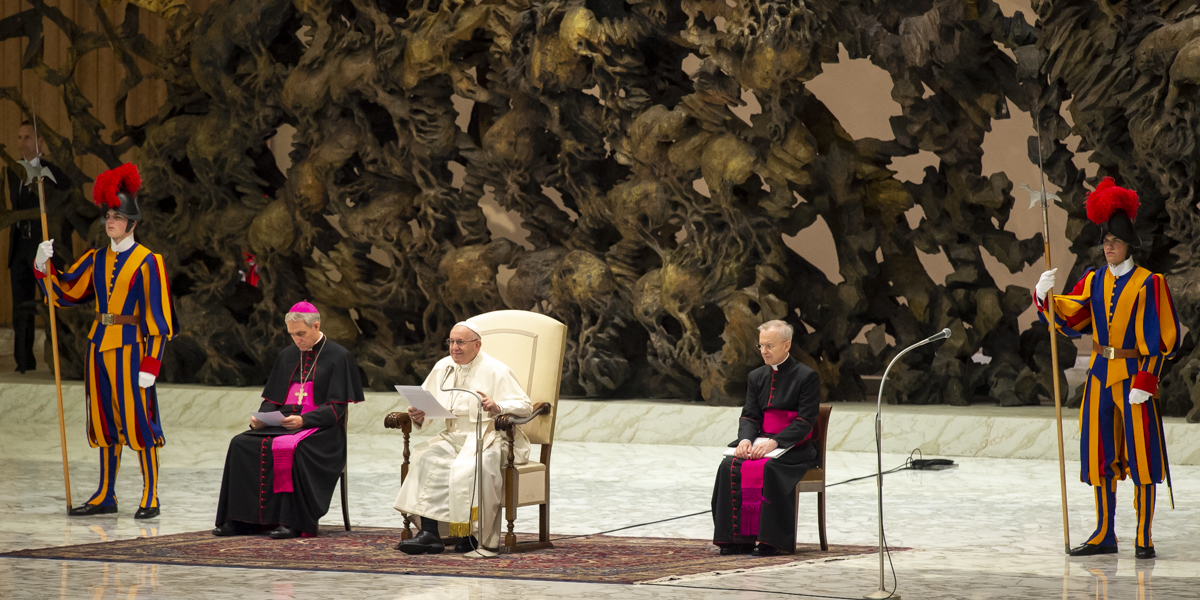 Launch the slideshow
What, in fact, is that enormous and rather frightening looking sculpture looming behind him?
It's the monumental "The Resurrection," created by the sculptor Pericle Fazzini, who in 1965 was commissioned by the Vatican to provide a backdrop for the modern Paul VI Audience Hall. The pope gives his weekly address in this auditorium when inclement weather prohibits the use of St. Peter's Square.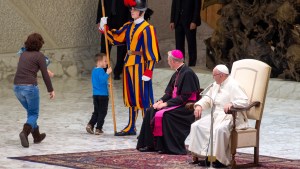 Read more:
Little boy joins pope for catechesis; Francis draws lesson from his freedom (VIDEO)
The 66-foot by 23-foot sculpture looks scary because it's meant to – it depicts Jesus rising out of a nuclear bomb crater in the Garden of Gethsemane.
The sculptor Fazzini, who died in 1987, explained his inspiration for the work:
"Suddenly there came to me the idea of Christ preaching peace for 2,000 years, and the place where He prayed for the last time: the olive grove of Gethsemane," said Fazzini, as reported in his obituary in the New York Times.
"I had the idea of depicting Christ as if He were rising again from the explosion of this large olive grove, peaceful site of His last prayers. Christ rises from this crater torn open by a nuclear bomb; an atrocious explosion, a vortex of violence and energy."