It's the word surely Mary was saying, just like every other hugely-pregnant mom waiting to give birth.
I've never met a woman approaching her due date who didn't get a rather desperate look in her eyes when asked if she thought the baby would come soon. There's a physical discomfort, of course, that makes one ready to be done being pregnant, but there's also a deep desire to hold your baby in your arms, to look into her eyes, to meet this little person you've been dreaming of for months.
Imagine how Mary longed for Jesus.
She was hugely pregnant. For nearly nine months she'd been waiting to meet her Savior and she was so ready. Every fiber of her being was attuned to each movement that she felt within her as she counted down the days to his birth and the miles to Bethlehem, where she must surely have known he had to be born.
And while the question of Mary's discomfort in pregnancy is a matter of some theological speculation, she must still have yearned for the coming of her son more than any woman before or since. The liturgy tells us this in a special way starting on December 17, when the priest prays, "the Virgin Mother longed for him with love beyond all telling." In this last week before Jesus' birth, the Church asks us to stand with Mary and long as she did for the coming of Christ.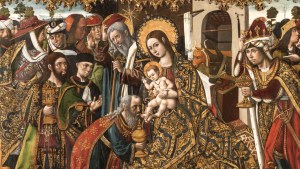 Read more:
If you want to love Mary more, find her in the Old Testament (this book will guide you)
On that same day, we're invited to begin praying the O Antiphons, ancient prayers that elicit from us a deep sense of wonder at this infant God who is key and cornerstone, servant and Savior. For centuries, Christians have prayed a setting of these antiphons in the hymn, "O Come, O Come Emmanuel," each verse beginning with the plea, "Come!"
It's the word of the season: come. "O Come, Divine Messiah!" we sing, or "Come, Thou Long-Expected Jesus!" We cry out with St. John the Revelator, "Maranatha! Come, Lord Jesus!" Every prayer, every song is an entreaty as we beg the Lord to come once more into our lives, as we urge him to come in glory and bring healing to our ravished world.
How much the more would we long for him if we asked Mary to make our hearts more like hers? If we imagined ourselves longing for him with love beyond all telling, the love of an overdue mother and an awestruck worshiper — maybe then we really could come to mean it when we pray, "Come, Lord Jesus!"
But most of us offer this prayer only halfheartedly. We want Jesus to come, but only into the parts of our lives where we don't cling to control. We want him to come, but not into our mess and not into our plans. We want him to come again, but not until after we've achieved or accomplished whatever is the current focus of our lives.
What if he became the focus of our lives? What if we made space for him, as Mary did, as Joseph did? What if we became so focused on him that we really began to long for him with love beyond all telling?
It's a tall order, but one we can approach in a simple way these last 10 days before Christmas: with the word "come."
Mary must have spoken that word to him so often in those last weeks, earnestly whispering to the unborn Christ-child, "Come, my love. Come out. Let me meet you, hold you, kiss you. Let me stare at your tiny perfect fingers and sniff your sweet baby head. It's time, isn't it dear heart? Come." During these last days of Advent, let's do the same.
When you wake, ask him into your heart, into your day. "Come, Jesus. Let me know that you're with me." When you approach a difficult conversation, "Come, Jesus. Stand between us. Let me see him in the light of your love, let him see me as you see me." When there's a hard decision to be made, "Come, sweet Jesus, and form my heart to desire what you desire." When you have a spare moment, waiting in line or in holiday traffic, leave your phone in your pocket and your radio off. Instead, pray, "Come, Lord Jesus. Come now and speak your love to me."
We can't manufacture within ourselves a deep hunger for Christ that manifests itself in the passionate feelings of longing that Mary must have felt. Fortunately, holiness isn't contingent on feelings. If your Advent has been hectic or miserable or dull, that doesn't make it a failure, nor does it mean that it's too late to enter into the season. You've got 10 days left. Sit with the Blessed Mother in her last 10 days of pregnancy and pray along with her, "Come." Come into my heart, come into my life, into my family, into my job, into my plans, into our world. Come, Lord, and save us.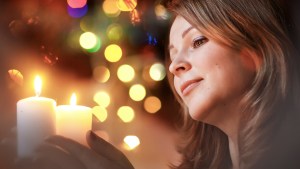 Read more:
12 Thought-provoking quotes to inspire the rest of your Advent