It's time to retrieve devotion to the Holy Name.
Are you very good at remembering names? Not me. When I taught at universities, my students thought that I was very strict because I took attendance every day. Actually, taking daily attendance was my only shot at learning the students' names by the end of the semester. When my inability to recall names was found out (as it inevitably was), I would (half-) joke with my students: "I have nominal aphasia." They would look at me with kind concern. Then I would explain: "That means that names fly into my right ear and then fly out of the hole at the base of my skull." I used a bit of humor to cover my embarrassment at this weakness in my social skills.
Immediately after my mother had a stroke, she was traumatized by the discovery that, for a brief while, she could not recall her name. When she recovered and came home from treatment, she began a curious yet revealing practice. Every morning, before anyone else woke up, she would come down to the kitchen, and take out a notebook that she kept in a drawer. The she would sit down, and write the day's date, followed by her name and address. Line after line, she would repeat her name and address, in perfect handwriting. Once she filled the page, she would close the notebook, and place it back in the drawer. She kept up this practice for years, until she died.
There is one name that we dare not forget. No—let me rephrase that. There is a name we must retrieve. That is, there is a name that is all-too-familiar, spoken of all-too-casually, with neither faith nor reverence, and that is the Holy Name of Jesus.
January 2, in the venerable calendar of the Church, is the Feast of the Holy Name of Jesus. (This feast is celebrated on January 3 in the General Roman Calendar of 1969.) Recalling when the Holy Family came to the Temple in Jerusalem to dedicate the Christ Child to God (Luke 2:21), the Mass of the venerable rite reflects the abiding faith of the Church that the very name of 'Jesus' (roughly translated here as "God-is-salvation"), is worthy of love, devotion, and care. There was a time when this insight was common knowledge and common practice.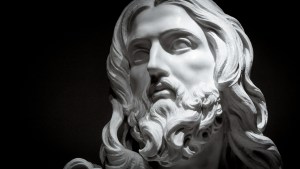 Read more:
Litany of the Holy Names of Jesus, All Mercy
The acknowledgement of the true awesomeness of the Holy Name was summarized by the Catholic Encyclopedia:
The Name of Jesus invoked with confidence
brings help in bodily needs, according to the promise of Christ: "In my name They shall take up serpents; and if they shall drink any deadly thing, it shall not hurt them: they shall

lay their hands

upon the sick, and they shall recover." (

Mark 16:17-18

) In the Name of

Jesus

the

Apostles

gave strength to the lame (

Acts 3:6

;

9:34

) and life to the dead (

Acts 9:40

).
That the Holy Name, that is, the invocation of our savior, was both worthy of love and also blasphemed, was expressed by "The Golden Arrow Prayer," which is said to have been revealed by Jesus to a Carmelite nun of Tours in 1843 as a reparation for blasphemy:
May the most holy, most sacred, most adorable, most mysterious and unutterable Name of God be always praised, blessed, loved, adored and glorified in heaven on earth and under the earth, by all the creatures of God, and by the Sacred Heart of our Lord Jesus Christ in the most Holy Sacrament of the altar.
How different is Catholic tradition from our own time, marked by vulgarity, irreverence and worse! There was a time when Catholics knew to bow their heads upon hearing the Holy Name spoken of in public prayer, in the recitation of Sacred Scripture, and in the venerable rites of the Church. Our culture has gained nothing by losing its humility before God. Worse, the culture has become indifferent to the honor owed to our Divine Savior, whose human birth we claim to have so recently celebrated. What shall we do, starting today, to restore reverence for the Holy Name and love for Jesus in our conversations, our prayer and our worship?
When I write next, I will speak of the dangers of making New Year's resolutions. Until then, let's keep each other in prayer.
Read more:
Taking the name of the Lord in vain is much more than "OMG," explains Francis