When two people share one job, it can be a win-win situation.
What can God do in your life with one Bible verse a day?
Subscribe to Aleteia's new service and bring Scripture into your morning:
Just one verse each day.
Click to bring God's word to your inbox
A large British study recently looked at household stress. The results show that mothers who are raising two children and working full-time are 40 percent more stressed than working women without children. Neither working from home nor flex-time improve the situation; only a reduction in overall working hours has a positive impact on chronic stress, according to the study.
Working mothers are significantly more stressed
According to the study mentioned above, which was published in Sociology (the journal of the British Sociological Association), a mother with one child who works full time is 18 percent more stressed than a working woman without children. That figure rises to 40 percent if she has two children. This isn't a big surprise; working mothers have felt the stress for years. More than anything, this study measured that stress quantitatively and brought it into the spotlight, using observations of biological data from more than 6,000 women, such as blood pressure and hormone levels. Researchers specifically looked at 11 biological markers of stress in five different biological systems within the body.
"Work-family conflict is associated with increased psychological strain, with higher levels of stress and lower levels of well-being. Parents of young children are at particular risk of work-family conflict," explained Prof. Tarani Chandola of Manchester University. "Working conditions that are not flexible to these family demands, such as long working hours, could adversely impact on a person's stress reactions," he said.
One solution: Job sharing
According to the British study, neither working from home nor more flexible hours effectively reduce the anxiety mothers experience. The only proven solution is to reduce their working hours. Job sharing, which involves two people sharing the same position, is one way to reduce working hours while helping working mothers remain employed. While this model has been in use in the US, the UK, and Switzerland for years, it hasn't yet been established in many other countries. In France, for example, job sharing only arrived in 1994, at Hewlett-Packard, but legislation in this regard is still pending.
This model of employment can be a win-win situation. It has benefits for businesses: It results in greater productivity and less absenteeism, in a continuous presence on the job as holidays are taken in turn, in a reduction in the risk of burnout, and in employees being more motivated and loyal, because their company has responded to their needs and aspirations. In addition, better decisions are made, thanks to having two employees share their experience and professional competence with each other ("two heads are better than one"). The two people sharing the job complement each other and teach each other, and contribute to broadening the range of professional contacts. And, of course, it gives working mothers an opportunity to continue their careers with less stress.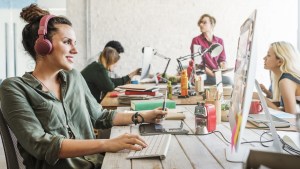 Read more:
The valuable life lessons working mothers can teach their kids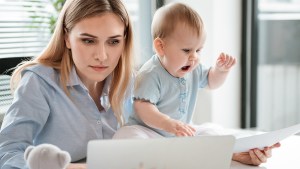 Read more:
Motherhood or career: Which one should you do first?