The little-known story of how the famous actor embraced the Catholic faith.
This American legend of the silver screen needs no introduction. John Wayne, who won an Oscar for Best Actor in 1970 for his role in True Grit, is famous throughout the world, particularly for his long career in Westerns.
He began to work in cinema while he was at college, when his greatest passion was football. During those years, he became friends with director John Ford, who opened to Wayne the doors to success in Hollywood. Wayne acted in, directed, or produced more than 175 films, half of which were Westerns.
What is less known about him is his relationship with faith. Marion Mitchell Morrison (his real name) grew up in a Presbyterian family of Scotch-Irish origin, where he learned the importance of going to church, reading the Bible, and believing in God.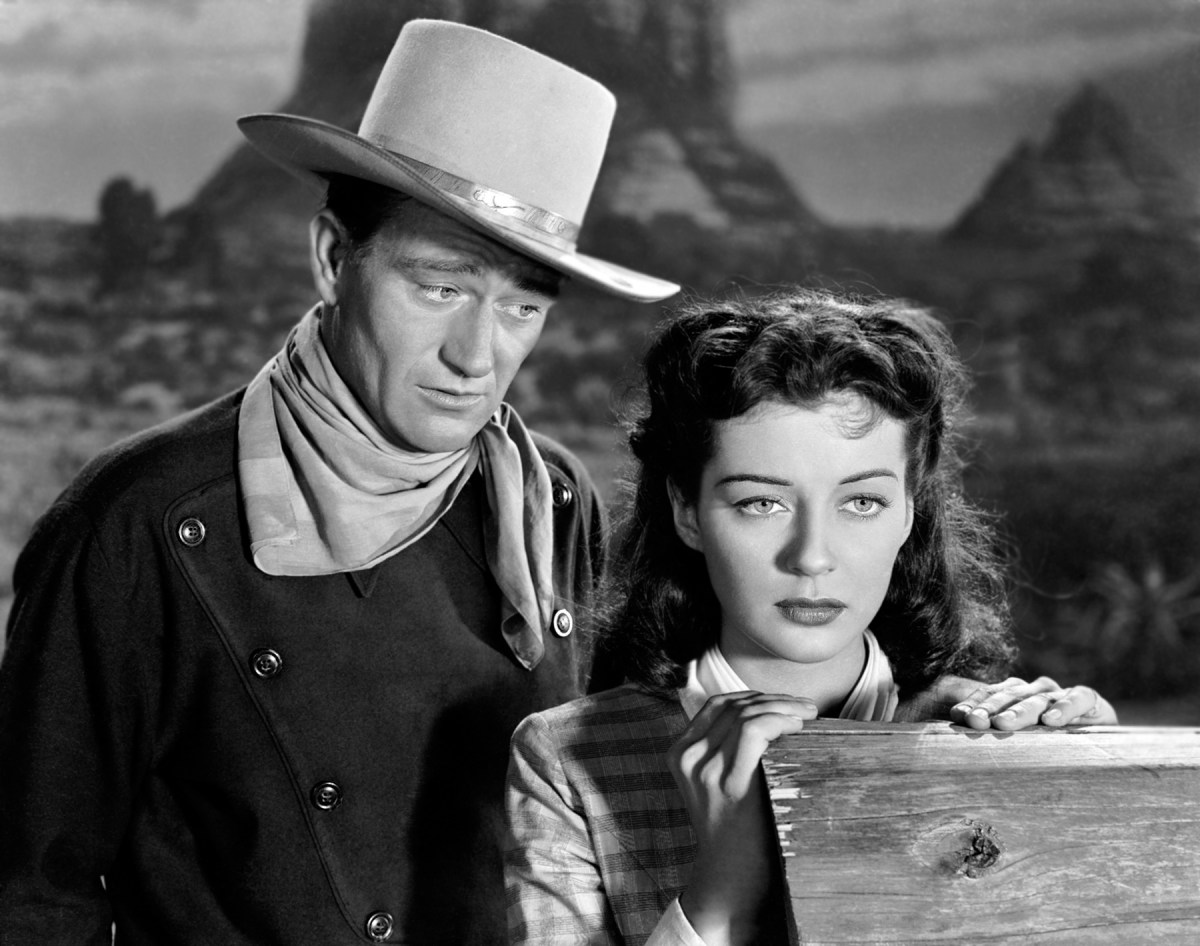 Launch the slideshow
However, John Wayne soon left religion behind and led a life far from the teachings he'd received: he got married three times, tended to drink too much, and had several lovers (including celebrities Marlene Dietrich and Maureen O'Hara).
Nonetheless, faith always came back to knock on the door of his heart. His first significant contact with Catholicism was due to his first wife, Josephine Alicia Saenz, who got John Wayne involved in various parish events and who prayed incessantly for his conversion, even after their marriage failed.
All his wives were Catholic, his seven children went to Catholic schools, and his 21 grandchildren grew up in the faith. His friendship with John Ford, who made no mystery of his own profound Catholicism, influenced his life.
He was the image of strength and manliness for generations of movie-goers, but he also had moments when his human frailty and mortality was made manifest, such as his heart surgery in 1978, and his prolonged battle with cancer, which began in 1965 and ended with his death in 1979.
His son Patrick has stated that his father wasn't particularly religious: "Dad wasn't religious, and not Catholic (we were raised in the Catholic Faith by my mother, Josie)."
Fr. Matthew Muñoz, a Catholic priest of the diocese of Orange, California, one of Wayne's grandchildren, reveals some details of his grandfather's spiritual life. Muñoz was 14 years old when Wayne died of cancer. He explained to CNS that when Wayne was ready to be baptized, Archbishop Marcos Gregorio McGrath (archbishop of Panama, the friend of a friend of Wayne's) went to see him. "My mom and uncle were there when he came. So there's no question about whether or not he was baptized. He wanted to become baptized and became Catholic. It was wonderful to see him come to the faith and to leave that witness for our whole family."
Fr. Muñoz also spoke about his grandfather's regret about not having converted to Catholicism earlier, although the priest points out that Wayne had some degree of spirituality even before making that decision. "From an early age he had a good sense of what was right and what is wrong. He was raised with a lot of Christian principles and kind of a 'Bible faith' that, I think, had a strong impact upon him." Fr. Muñoz also explains that his grandfather used to write letters to God: "He wrote beautiful love letters to God, and they were prayers. And they were very childlike and they were very simple but also very profound at the same time."
Some say that the actor converted after receiving a letter from a girl with a broken leg. It's true that he wrote a letter to the daughter of Robert Schuller, who had recently undergone the amputation of a leg, but the two events seem to be merely contemporaneous, not necessarily connected.