Brett Kinloch's dedication to his family was apparent all the way to the end of his earthly life.
In a set of heartbreaking yet remarkable circumstances, a father-of-two suffering from a brain tumor managed to stay alive so that he could hold his third child moments after her birth and hours before finally succumbing to his long-term illness.
Brett Kinloch from Bedfordshire in England had been suffering from a grade 4 glioblastoma brain tumor since 2015. In his last years he became a dad to two young daughters, 4-year-old Freya and 18-month-old Ella, but when his wife, Nicola, was rushed into labor on February 11th with baby number three, Brett managed to give her a kiss goodbye before he himself was admitted to a different hospital 20 miles away.
After going through labor without her husband to lean on, Nicola managed to get discharged from the hospital just 50 minutes later — with the fantastic help of her midwives, who themselves were hiding their own tears. The new mom was determined to dash to her husband's side to introduce him to their new daughter, Ariya. "I just wanted to get there — there was no question we weren't going to make it," the courageous mom explained to the BBC.
With her mother driving, Nicola reached her husband's hospital and placed the newborn in her father's arms, putting her face next to his so that Brett could feel the sensation of his new baby girl alive, safe and sound. Despite the emotional occasion, the now mom-of-three made sure to capture the moment on camera to share with her daughter as she gets older. A few hours later Brett finally passed away.
The incredible strength this couple shared represents their positive attitude throughout their whole ordeal. When Brett, a phys-ed teacher, was first diagnosed four years ago he tackled the tumor and almost beat it. He never lost hope and constantly put his family first. When the news came in December that the tumor had regrown and was inoperable, this didn't stop Brett from working or taking his daughters out and about. In fact the "superhero handsome prince," which his daughter Freya called him, worked until the last three weeks of his life in order to support his family — a will power born from his deep love for his wife and very young children.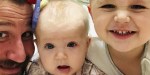 Read more:
7 Tips for being an outstanding dad