Sometimes we get inspiration from the most unlikely sources ...
Early last December I felt overwhelmed. Not the feeling of being unable to cross out those never-ending dos on the to-do list overwhelmed. More like I was failing at everything and had no idea how to juggle my four kids — one of whom had gone through a truly horrific ordeal — work, my huge immediate family, friends, and let's not forget, Christmas preparations. While praying offered momentary calm, it wasn't the practical solution I was after.
So being the bad mom that I was feeling, I switched off and instead switched on New Amsterdam. (Yep, when everything is falling apart I tend to hide in a TV series or two.) And, there, unwittingly I found my solution. Now I'm not saying it's a fantastic show or anything like that; I know I have dubious taste and I love the gore of a hospital drama. Yet, its feel-good factor spurred me on to try something new. And considering my woeful state and that it was nearly New Year's, the timing couldn't have been better.
In the show, the young, well-meaning medical director takes on his new position with gusto. He wants to turn that hospital around in record timing. It felt eerily familiar, with my impatience wanting me to get my own life straightened out in just a couple of hours … did I say I was impatient? The only logical approach was to take a leaf out of this successful fictional character.
By episode two I noted that he found solutions to everything by asking one simple question: "How can I help?" While my cup was definitely overflowing I thought to myself: "Why not? Let's go for it!" I started with a sister who was on the phone, about 800 miles away, across the English Channel. She was in a bind about a work project and was lost. When I asked her my four-worded question I heard her stop in conversation — a rarity with my chatty sis — and through trying to find a way for me to help, she found the solution in the process. Job done — and all I did was listen.
I tried my question on a few friends too. While they needed practical help or advice, I was able to offer them a solution too. Again, it didn't really add that much to my normal routine. The best part, I was beginning to feel useful again, a little less of a failure.
Spurred on, I decided to try my question out on my very fragile 18-year-old daughter. I felt this was pretty dangerous territory as I often say the wrong thing to her as, of course, I never understand! Yet, there again, I hit the jackpot. She only wanted a hug and a trip to a café to discuss how much she felt overwhelmed about her schoolwork. After sorting out a new doable timetable — accompanied with a chocolate pancake — we were walking home with a real spring in our steps.
Now this all may seem a little trite, yet, it's done the job. My to do-list is still impressive and although I have demands from people left, right and center, I no longer feel panicked. By putting the needs of others above my own I've gained a different perspective to my life, while also feeling less of a failure.
And my very favorite reply to my "How can I help?" has been to sponsor a child in Uganda. The sheer joy I've received in helping a young girl gain an education has proven to me how important it is to look further afield when we're ready to implode. The only issue is it's slightly addictive. The feel-good factor in helping others is immeasurable but if we do it for the right reasons it's something I'll happily continue until my cup truly does overflow.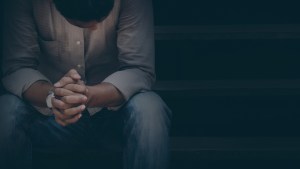 Read more:
Anxious? Here's St. Francis de Sales' calming advice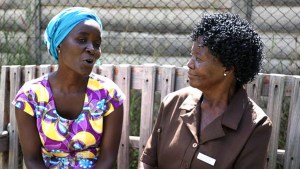 Read more:
How grandmas around the world are helping the depression epidemic