We're still in the heart of the Easter season, so now is a perfect time to call on our Resurrected Lord.
Prayer to the Risen Jesus
O Risen Jesus,
you who gave peace to your apostles, gathered in prayer,
when you said to them, "Peace be with you,"
grant us the gift of peace!
Defend us from evil
and from all forms of violence that afflict our society,
so that we may all live, as brothers and sisters,
a life befitting our human dignity.
Oh Jesus,
who died and rose again for love of us,
dispel from our families and from society
all forms of despair and discouragement,
so that we may live as risen people
and may carry your peace to all the world.
Amen!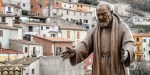 Read more:
When we're depressed or feeling blue, this prayer from Padre Pio is a way to reach out


Prayer from the website O Poder da Oração, translated and adapted by Aleteia.