Persecution of Christians leads to ultimate sacrifice in Nigeria and France.
It might not have risen to the level of 2019, when 29 missionaries lost their lives throughout the world, but 2020 certainly had its share of martyrs.
Near the beginning of the year, hope turned to sadness when it was learned that a 19-year-old Nigerian named Michael Ndadi, one of four seminarians who had been kidnapped from their campus, was found murdered. 
"With a very heavy heart, I wish to inform you that our dear son, Michael [Ndadi] was murdered by the bandits on a date we cannot confirm," Bishop Matthew Hassan Kukah of Sokoto, said in a February 1 statement. 
Four seminarians had been kidnapped January 8, but three of them were released at the end of the month. Nigerian Catholics hoped the fourth would be let go, but then the bad news emerged.
Nigeria continued to be the source of bad news, particularly in mid-July, when five aid workers were killed by the Islamic State in West Africa Province (ISWAP), a Boko Haram faction in northeast Nigeria.
In a video, the fighters said that the executions were a warning to "all those being used by infidels to convert Muslims to Christianity."
In Europe, too, some Christians lost their lives in witness to the faith. On October 29, a suspected Islamist terrorist killed three people who were worshiping in the Basilica of Notre Dame in Nice, France.
Brahim Aoussaoui, 21, of Tunisia, who had entered France after arriving on a migrant boat to Italy in September, allegedly hacked three people to death with a foot-long blade, apparently in response to French President Emmanuel Macron's defense of a teacher displaying cartoons of the Prophet Muhammad. That teacher had already been slain by another young radical. 
In Nice, the three victims were Simone Barreto Silva, a 44-year-old mother of three; a 60 year old woman who had come to the church to pray; and Vincent Loquès, the church's 55 year old sacristan.
On this feast of St. Stephen, the first martyr for Christ, we pray that these new martyrs intercede for the Church today.
Read more:
Muslims in France guard Catholic church in wake of Nice attack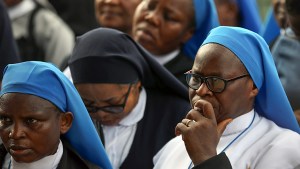 Read more:
Anti-Christian patterns against Near East Christians seen being repeated in Nigeria