A search for the children he met 70 years earlier led to an incredible connection.
Elderly American war veteran Martin Adler always wondered what became of three children he met while fighting in Italy during World War II. His appeal mobilized many people to make a reunion possible, 70 years later.
Happy ending
Thanks to a media campaign, Martin was able to find those children, who are now elderly and live in Castel San Pietro Terme (Bologna, Italy). Bruno, Giuliana and Mafalda Naldi recognized themselves in the photo shared online.
The three were able to greet the former soldier through a video message. With some difficulty in communicating between Italian and English, they embraced each other virtually with smiles.
But what is the story that brought them together?
A peaceful encounter in the midst of war
Originally from the Bronx, Martin Adler is 96 years old and lives in Florida. A distant memory from his time as a soldier in Italy in 1944 prompted him to spread a message online seeking the children. Many Italian newspapers joined in sharing his story.
At the beginning of December, journalist Matteo Incerti from Reggio Emilia published a request on his Facebook page. He became the spokesperson, together with Rachelle Shelley Adler Donley (Adler's daughter), of a desire that had been on hold for decades.
There's a photo in which the 20-year-old Adler, in military fatigues, poses with the three children.
There's a surprising story behind that image. Martin and his friend and fellow soldier John Bronsky had been sent to search houses in a town in the Apennines to see if there were any Germans hiding there. Adler told the story to Italian news outlet Corriere della Sera:
We entered that home. There was a large wooden basket, and strange noises were coming from it. John and I had our finger on the trigger ready to shoot; there could have been Germans there. Then there was a scream and a woman ran towards us shouting "children, children!" It was their mother! We stopped, and out of that huge basket came three beautiful children, two girls and a boy.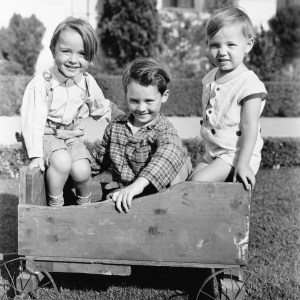 At that decisive instant, the brutal logic of war was defused. There was an encounter, where there could have been a massacre.
It was a day like any other between September and October 1944 along the Gothic Line in the Tuscan-Emilian Apennines. After the war, Martin couldn't remember the name of the town, but he did remember those faces.
He and his comrade put away their weapons and faced the children with smiles instead of guns, asking their mother if they could take a picture. She had her children change their clothes, putting on their Sunday best. The resulting photo remained among the veteran's indelible memories.
He then continued to fight, was later wounded, and contributed to the liberation of Italy. The fortuitous encounter with those three children was the only glimmer of goodness in the hell of war, Adler recalls today.
Are they still alive?
The year 2020 was a sort of war, although different from the one fought with weapons in a foreign land. It made us brutally reckon with losses and with our fragility. It tore apart our delusion of omnipotence.
Conversely, it was an opportunity to make a more sincere human appeal. We looked around us, and we gave thanks even for those relationships we took for granted. A dark background always has the effect of highlighting the luminous objects that stand out against it.
From the darkness of the past, veteran Martin Adler wanted to rediscover and highlight those three children, whom he left small and defenseless in an Italy at war. The Corriere reports:
"Are they still alive?" he asks himself. "Does anyone recognize himself (in the photo)? Maybe them, or their children. I would like to talk to them and, why not, when this virus ends, meet again and hug. Let's try it; it would be a Christmas fairy tale if we could all be together again."
Their lives touched each other for a few hours, a moment of good in a horizon of violence and death, and then each went his own way. It was an interrupted story that deserved a few more chapters.
The editorial staffs of Il Resto del Carlino and La Nazionesi worked hard to spread the message. Adler couldn't remember the exact location; it must have been on the border between Emilia Romagna and Tuscany, between the Santerno and Sillaro valleys.
After a few days, he received an answer. Three siblings, all still alive, from Castel San Pietro Terme (in the province of Bologna) recognized themselves in the story and in the photo.
Under the eyes of God
Adler sent another video to the editorial office of the Resto del Carlino. From his home in Florida he recalled once again the moment of the surprising encounter with those three children who came out of the basket, and he wondered what had become of their lives:
I hope they did something particular, spectacular, because God was really looking at the four of us—or at the five of us, because my buddy Bronk was there with me … It was interesting that these kids came out, scared, more scared I think than Bronk and I were, because we were ready to fire …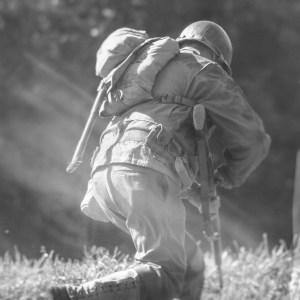 We're all armed to the teeth, metaphorically speaking, even when there's no military conflict going on. We're ready to fire at whatever stands in the way of the path we walk on. There's a daily temptation to shoot on sight, seeing any shadow as the enemy.
But if the veil falls, if for a moment we're shown that the person in front of us is frightened and defenseless—that is, just like us—are we willing to recognize it?
It's this point in Martin Adler's story that strikes me most: that moment when freedom can decide whether or not to look before shooting. This makes me want to pray that God may be present; may He be a companion to my freedom, and may He not leave me alone to take aim like a sniper.


Read more:
In times of war, this is what Catholic soldiers did when they couldn't go to Mass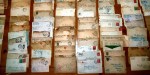 Read more:
An American soldier's touching love letters from World War I