Dr. Soccorsi died January 9 after battling cancer and contracting Covid-19.
Pope Francis attended the funeral of his personal physician, Dr. Fabrizio Soccorsi, on the afternoon of January 26, the director of the Holy See Press Office announced.
The ceremony, celebrated by Cardinal Pietro Parolin, Secretary of State of the Holy See, took place in the Church of Maria Regina della Famiglia in the Governor's Palace in the Vatican, in the presence of relatives of the deceased.
Fabrizio Soccorsi died at the age of 78 on January 9. He was battling cancer and also had contracted Covid-19.
During the ceremony, Pope Francis sat alone in the front row and wore a mask.
The Argentine pontiff chose Soccorsi as his doctor in 2015. He succeeded Patrizio Palisca, personal doctor of Benedict XVI.
Francis was close to his doctor. When Soccorsi's daughter died in 2017, the Holy Father placed two bouquets of white roses before Our Lady of Fatima, in her honor.
Born in 1942, Fabrizio Soccorsi graduated in Surgical Medicine from the University of La Sapienza in 1968. Successively director of several key departments within the San Camillo Forlanini Hospital in Rome, he also pursued a teaching career. Author of around one hundred scientific publications and contributions, for several years he headed the chair of clinical medicine and pharmacology at the faculty of medicine and surgery at La Sapienza University. He has also worked as a consultant to the Department of Health and Hygiene of the Governorate of Vatican City State.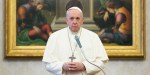 Read more:
Pope Francis' personal doctor dies of COVID-19 complications