In the midst of Ireland's lockdown, these isolated nuns bring some much needed smiles.
A group of Redemptoristine nuns from Dublin are keeping spirits high through the Irish lockdown with dance. Called the "Jerusalema Dance Challenge," these viral moves became popular on TikTok last February, at the start of the pandemic. 
According to Classic FM, the 13 nuns who appear in the video are aged 28 to 92. The younger nuns dance about spryly, but the older sisters remain seated, keeping the rhythm with their hand clapping. The cheerful video features nuns in red and blue habits, as well as a few priests dancing around the scenic St. Alphonsus monastery.
Sister Lucy Conway told RTÉ News that the goal of the video was to cheer people up. The sisters said that the dancing was just another way to offer prayers for those suffering due to COVID-19. Ireland, which is experiencing an uptick in cases, has recently extended its lockdown until Easter.
The sisters noted that they were challenged to dance by their local priests and monks, several of whom also appear in the video. The dance took a whole weekend to perfect and record. They told Classic FM that since posting the video, they have received numerous emails thanking them for their moves. 
The Redemptoristine nuns have been based in Dublin since 1859. They are a secluded order who devote their lives to isolated prayer, making them the perfect guides to get us though the lockdown. Normally they raise funds by producing bread to be used in the liturgy, but since the pandemic hit they have diversified because of lack of demand. Now they knit, produce candles and prayer cards, and record fun videos that bring smiles to the everyone. 
Click here to learn more about the Redempotistine community.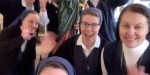 Read more:
Daughters of St. Paul go viral with TikTok challenges