Station Church Day 29: The nucleus of this papal basilica dates back to Constantine.
Need an idea for Lenten almsgiving?
Help us spread faith on the internet. Would you consider donating just $10, so we can continue creating free, uplifting content?
Make a Lenten donation here
Aleteia invites you to a virtual Lenten pilgrimage through Rome's 42 station churches: one church per day, from February 17 to April 11.
Day 29
The Basilica of St. Paul Outside the Walls stands over the tomb of St. Paul, who died a martyr in Rome in the year 67. It is one of the four major, or papal, basilicas, along with St. Peter, St. John Lateran, and Mary Major.
Paul was martyred at a different site where today is found another church, the basilica of St. Paul at the Three Fountains; according to tradition, three springs of water welled up from the ground at the three places where St. Paul's head bounced when he was decapitated.
The first nucleus of the Basilica of St. Paul Outside the Walls is a small church built by Constantine. It was enlarged in 384 by the "three emperors" Valentinian II, Theodosius, and Arcadius, and survived until it burned down in a fire in 1823. It was rebuilt in neoclassical style, while remaining faithful to the original structure.
For more than 1,300 years, Benedictine friars have been the custodians of this place. Today, the Benedictine charisma is intertwined with an ecumenical one. Among their most well-known initiatives are the Pauline Ecumenical Colloquium and the Week for Christian Unity, which ends each year on January 25, the Feast of the Conversion of St. Paul.
Since 2008, the beginning of the Pauline Year, the Pauline flame, lit by the friars, has been burning in the atrium of the basilica.
In the past, the Basilica of St. Paul Outside the Walls was the site of the third round of baptismal scrutiny. In the place dedicated to the apostle who was converted on the road to Damascus, for the first time the catechumens listened to the word of God in a liturgical service called "in aperitione aurium": in a spiritual sense their ears were opened to the word of eternal life.
Like St. Paul and the catechumens, let us renew our journey of conversion.
Anyone who hears my word

and believes him who sent me

has eternal life,

and does not come under judgment,

but has passed from death to life.

(Jn 5:24)
* In collaboration with the Social Communications Office of the Vicariate of Rome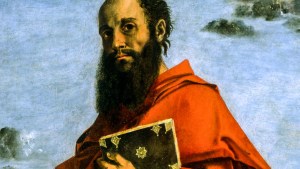 Read more:
St. Paul's guide to using social media
Read about the tradition of the station churches here. And see previous churches in the pilgrimage here.
Launch the slideshow