Here are 7 interesting facts about the Swiss Guard and what they do in the Vatican.
The pope has been protected by the Swiss Guard for over 500 years. Here are several fascinating facts about the Swiss Guard and their primary functions.
1
Protecting the pope since 1506
In 1505 a treaty was made between Pope Julius II and Swiss Cardinal Schinner for the Swiss to supply approximately 250 men as a body-guard to the pope.
The official founding date of the Swiss Guard is January 22, 1506, and the corps remains an active security force with both ceremonial and practical assignments within Vatican City.
2
Only open to male Swiss citizens
The Swiss Guard is an all-male corps and Swiss citizenship is a basic requirement.
3
Must be at least 5 feet 8 inches tall
There is a size requirement for the Swiss Guard of roughly 5 feet, 8 inches tall. This is likely due to the ceremonial nature of the job.
4
Need to be single and between the ages of 19-30 to apply
The candidate must be single to join the Swiss Guard. Individuals may marry after joining, but the guardsman must be at least 25 years old, have already served five years and commit to an additional three years of service.
5
Required to be a practicing catholic
Members of the Swiss Guard must be Catholic, as they need to be present at Catholic liturgies and also lead a life of prayer. There is a priest chaplain for the Swiss Guard who tends to the spiritual needs of the guards.
6
Active security guards for the pope and Vatican City
The Pontifical Swiss Guard constantly keep watch over the pope and his private residence. They guard the official entrances to the Vatican City, run access checks, and are available to the many international visitors to the Vatican.
The Swiss Guard are present at all papal audiences and church ceremonies where the pope is present. They can be seen in both traditional uniform and in civilian clothes.
They also accompany the pope on all domestic and international trips and are similar in some ways to the U.S. Secret Service.
7
Swiss Guards are armed with Swiss military weapons
Many ask if Swiss Guards carry guns. The answer is yes, guards in civilian clothes carry pistols, rifles, or submachine guns. They are trained in the Swiss Armed Forces recruit school and are military servicemen, not simply there for looks.
If necessary, the Swiss Guards can use the ceremonial weapons they carry as well.
The swearing-in ceremony of the Swiss Guards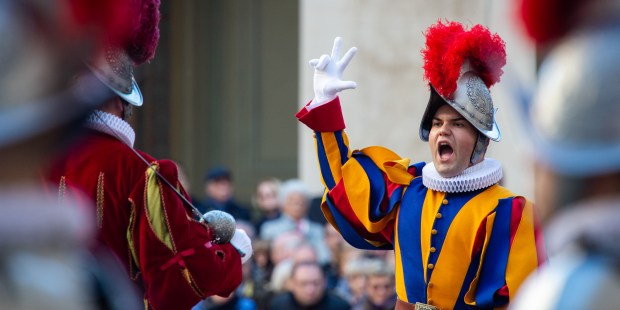 Launch the slideshow