The Paris Games will have a bishop-delegate, himself a dedicated athlete.
For the first time in history, the Olympic Games will have an episcopal delegate appointed by Pope Francis: During the 33rd Olympic Games, to be held in Paris in 2024, this unprecedented mission will be fulfilled by Bishop Emmanuel Gobilliard, 53, auxiliary bishop of Lyon, France. The bishop is known as a passionate athlete and recognized for his expertise in tennis, soccer, and judo.
In 2018, during the Youth Synod, he was in charge of organizing a soccer tournament between the young participants and the bishops.
Pope Francis highlighted the recently concluded Tokyo Olympics as a sign of hope in the midst of the COVID-19 pandemic. Also a soccer fan, the Pontiff, a supporter of the Argentinean San Lorenzo club, sees sport as a great means of fraternity among peoples.
With the expectation of a gradual return of the public to stadiums and gymnasiums between now and the next Olympic games, the Holy See intends to bring the Church even closer to sports as a way of encouraging this fraternity.
Bishop Emmanuel Gobilliard received the invitation from the Holy See through the Episcopal Conference of France.
In an interview with La Croix International, he explains that he will not be alone as the bishop in charge of this special mission during the Olympics: Bishop Philippe Marsset, auxiliary bishop of Paris, will be in charge of the pastoral dimension of the event, while Bishop Luc Ravel, archbishop of Strasbourg, will be responsible for relations with sports federations.
The role of the bishops at the Olympics
Bishop Gobilliard's mission will be, in his own words to La Croix, "to connect people with each other to ensure that Paris 2024 reaches everyone personally." He explains that the Church has historically been present in the sporting arena thanks to teams and clubs founded by priests and religious.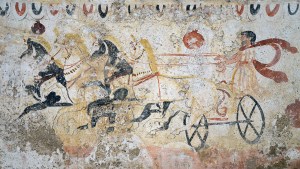 The very founder of the Olympic Games in the modern era, Pierre de Coubertin, was a Catholic. Considering that sports federations represent countless people around the world, the Church wants to show that it is with them and supports them in the practice of sports, given the many virtues that can be exercised with the discipline of the body and teamwork.
Moreover, healthy competitiveness shows that it's possible to give one's best and fight for one's team while applauding the good work of opponents, avoiding conflicts arising from destructive rivalries. Indeed, Bishop Emmanuel says, "There is a competitive dimension to every human being. Expressing it in sports avoids expressing it elsewhere."
A link to reality
The episcopal delegate for the upcoming Olympics also mentions that, in addition to fraternity, the recognition of one's own vulnerability and disability are important sports values, dimensions that can even become strengths: "I think it is fantastic, today, to see that sports can allow people with disabilities to express themselves. In fact, there is a certain realism in sports: You are what you are, you can't cheat or lie. I could never say that I am a soccer champion!"
The bishop says he wants to highlight the initiatives and generous people who have made sports their focus, and make this meeting "a communication event": he believes that there are sportsmen who are "discreetly Christian" and that "it is important to highlight them to show that it is possible to be a Christian and a sportsman."
And he adds:
For a long time, we have associated Church projects with something that is not fun. Students like gym teachers more than their catechist, for example. Young people need fraternal and stimulating experiences that do not contradict the practice of sports. From this point of view, the Church has something to offer them.