The Holy Father begins his first Apostolic Journey of 2022 by visiting Malta.
Pope Francis set foot in Malta for the first time since the beginning of his pontificate on April 2, 2022. Before his flight, he met in Rome with refugee families from Ukraine, the Holy See Press Office reports.
Pope Francis does not plan to sidestep the war in Ukraine during his two-day trip to Malta. The proof is that early in the morning, before leaving the Vatican's St. Martha Residence where he has been staying since 2013, he greeted some Ukrainian families hosted by the Community of Sant'Egidio as well as the Apostolic Chaplaincy.
Among these people was a 37-year-old mother with two little girls, 5 and 7 years old, who arrived in Italy from Lviv about three weeks ago. One of the girls has undergone surgery and is under medical supervision in Rome, the Holy See said.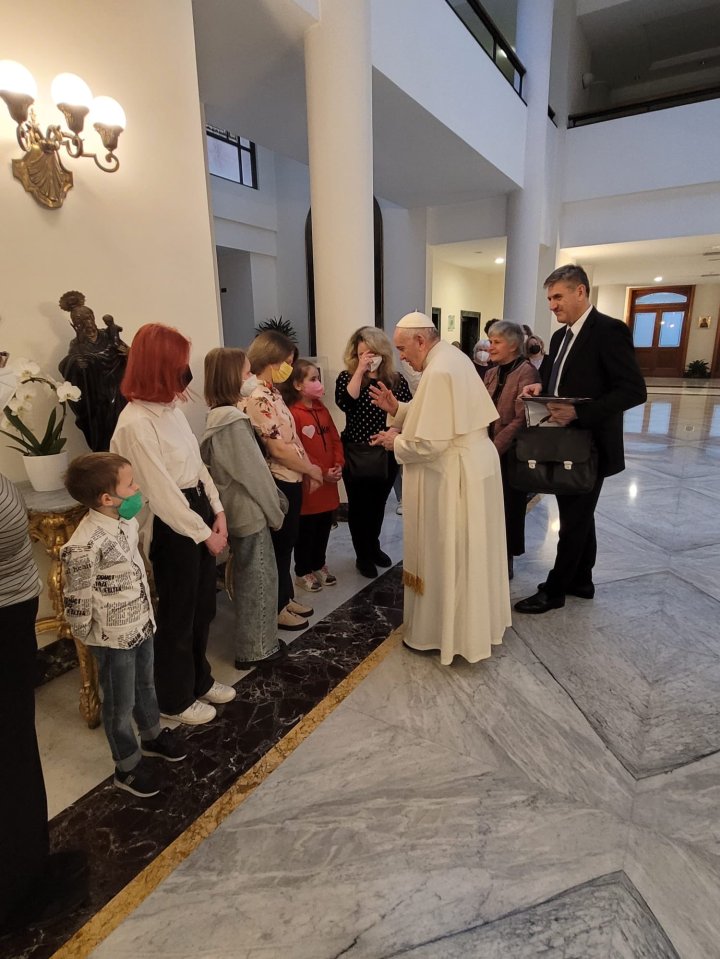 © Sant Egidio
Pope Francis then headed to Rome's Fiumicino airport. He boarded an ITA Airways plane which took off at around 8:30am.
On the flight, the Pope briefly greeted the journalists present with a few words. "Thank you for accompanying me on this journey, which is brief but will be beautiful," he said to the 70 accredited journalists.
It is noteworthy that on his arrival at Malta airport, the Pope did not use the main staircase to get off the plane but used a lift located behind the aircraft.
On the airport tarmac, he appeared smiling, although he had difficulty walking. The 85-year-old pontiff was warmly welcomed by a delegation of officials led by Maltese President George Vella. The Maltese Episcopate was also present.
The day's schedule
After the welcome ceremony at the airport, Pope Francis is due to pay a courtesy call on the head of state at 10:50am at the Palace of the Grand Masters in Valletta. He will then meet with Prime Minister Robert Abela at 11:35am.
Before the authorities and the diplomatic corps, the Pope will deliver the first speech of his trip at 11:50 a.m. at the Palace of the Grand Masters.
As an original element of this programme, Pope Francis will reach the island of Gozo by catamaran, with a departure planned at 3:50 pm from the port of Valletta. His arrival at the port of Mgarr is scheduled for 5pm, before a prayer meeting at the National Shrine of Ta' Pinu, Gozo, at 5:30pm. He will deliver a homily.
The Pope will then leave the port of Mgarr by ferry at 6:45pm. He will arrive at the port of Cirkewwa at 7:30pm before continuing on to the Apostolic Nunciature, located in the city of Rabat, the namesake of the Moroccan capital.
The schedule communicated by the Holy See Press Office does not give details on the rest of the evening.