'Holy Ghost Power,' the Dominican bluegrass band's third studio album, is a must-listen for Catholics and folk music fans alike.
The Hillbilly Thomists have reached #5 on Billboard's Bluegrass Albums chart just two weeks after releasing their third studio album, Holy Ghost Power. In the wake of such an achievement, the celebrated folk band of the Order of Preachers has released a music video for their new song, "Old Highway." 
Holy Ghost Power is a fantastic new album that shows off just what this excellent team of religious musicians can do. The record, which puts on display a wide breadth of acoustic styles, quickly landed the #9 spot on Billboard's chart in their first week. Since then it has only grown in popularity, moving up to #5 in week two. At this pace we fully expect Holy Ghost Power to claim the #1 spot by early August. 
"Old Highway"
Their latest video release is of their new song "Old Highway," a title they borrowed for their upcoming Old Highway Tour. The recording is a live session filmed before a campfire, giving it an impromptu aesthetic. It begins with a solitary singer playing guitar, but as each of the Dominicans pick up his instrument the viewer knows they're in for a treat. 
The first thing that struck us about this recording is how The Hillbilly Thomists switched up their positions. This is one of the benefits of having a band full of talented multi-instrumentalists. For example, Fr. Justin Bolger can be seen playing upright bass, which is quite a change from his usual placement on rhythm guitar. 
Meanwhile, Fr. Thomas Joseph White, who provides a great country vocal, put aside his banjo in favor of a resonator guitar. This swap works especially well as White was able to seamlessly transition his fingerpicking to the steel instrument. The song is made all the more laid-back by a solo played with a slide on a lap guitar. This style was developed in the Pacific islands, but it works so well in country and folk music.
Old Highway Tour
The Hillbilly Thomists are excited to announce that they are taking their powerful music and fervent faith on a new tour. For The Old Highway Tour, the band says that they're hitting the road with "a tank full of Americana favorites, Bluegrass standards, and original songs."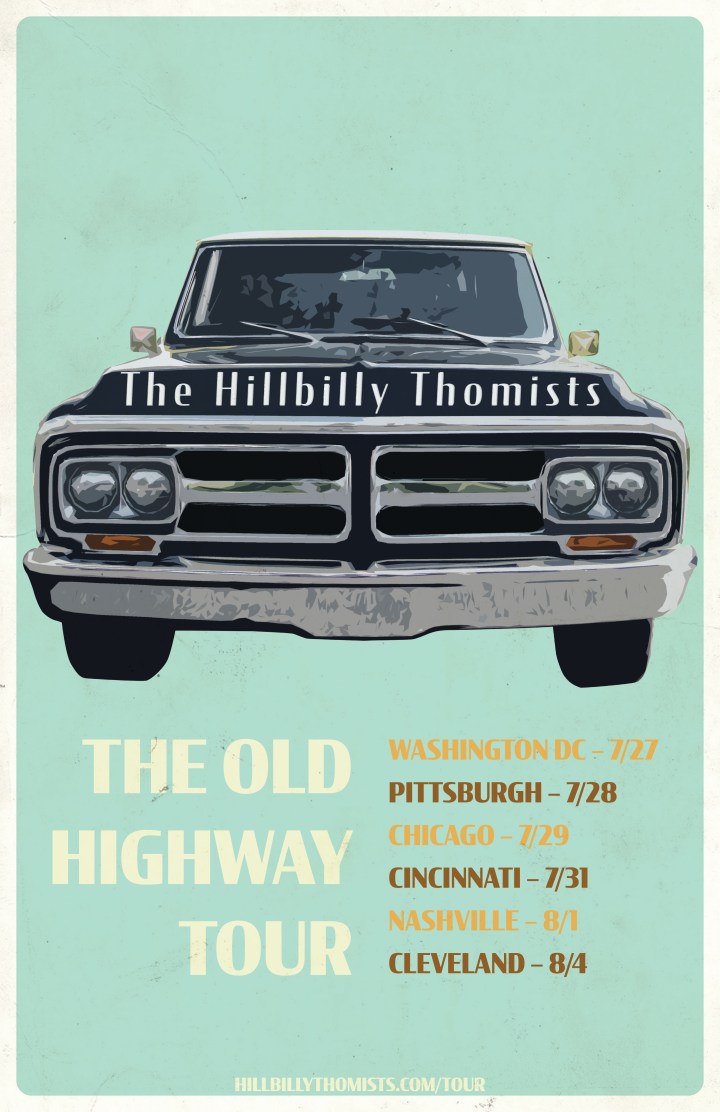 The Hillbilly Thomists – Provided
Tickets are already sold out for their Washington, D.C., and Cincinnati shows, but there are a bunch of other stops on the Old Highway Tour for which they're still available. On July 23, they'll be at St. Vincent Ferrer Parish in Manhattan, and when they make their way over to Chicago, they'll liven up the Athenaeum Center on July 29. 
The tour will also include free concerts as well. On July 28, they'll be in Pittsburgh, where they'll play a free show to raise funds for Nature of Fire and The Port ministries. By August 1, they'll be headlining at the 140th Supreme Convention of the Knights of Columbus in Nashville. Finally, on August 4, they'll bring their Catholic tones to Cleveland's St. Wendelin Church.
Free concerts are great, but even paying for tickets is a bargain for this tour. At many of their stops the Hillbilly Thomists are scheduled to perform for a staggering three-and-a-half hours. This is unheard of for most bands, and even if they take a healthy intermission, they're bound to play just about every song they know to fill up such a large slot. 
It's clear that the Hillbilly Thomists love what they do and this love stems from the merging of their faith and their art. The mission of joyful witness is always at the center of the Dominican bluegrass band's work, and this translates to extensive and jubilant concerts. The Hillbilly Thomists explained what to expect from their performances and their new album: 
"Flowing from the Dominican friars' life of contemplation, study, and preaching, the 13 tracks of Holy Ghost Power sing of redeeming love and old-time religion, Diet Coke and Original Sin, pilgrimage and the sweet prospect of the life that awaits beyond the River Jordan's stormy banks. They're songs for people who are made of a little bit of angel and a little bit of dust."

Click here to listen to Holy Ghost Power.