Gail Quinn, the first to lead the bishops' efforts on life issues, was behind many of the most important advances for life in the US.
The pro-life movement has had many unsung Catholic heroes – people who made great contributions but are not household names even to allies. Some of them, tragically, passed away in the weeks before or after we finally saw reversal of the terrible Supreme Court decisions Roe v. Wade and Planned Parenthood v. Casey. 
Vicki Thorn, founder of Project Rachel to provide healing and reconciliation for women and men involved in abortion, may have been the best known of these. Also on this list are Deirdre McQuade, former pro-life spokesperson for the U.S. Conference of Catholic (USCCB), and Brian Duggan, executive director of the National Committee for a Human Life Amendment and beloved husband of Helen Alvare.
But one of the most unsung of our heroes passed away July 24 from a heart attack. Gail Quinn, 79 years old, had spent 40 of those years working tirelessly for the Catholic bishops in defense of life. For 26 years I worked with her.
The first to lead the bishops' efforts on life issues
Gail moved to the Washington, D.C. area in 1966 to serve as executive assistant for Father James T. McHugh (later Bishop McHugh of Rockville Centre) in the U.S. bishops' Family Life Office. By 1972, the intensifying national debate on abortion led the bishops to establish a dedicated office for pro-life activities – and McHugh, then Monsignor McHugh, asked Gail to direct the bishops' campaign to educate and motivate Catholics on life issues, the Respect Life Program. I have written about the great legacy of Bishop McHugh elsewhere.
During Gail's 19 years in this post, the program became much larger and more sophisticated. 
It began as a yearly manual with brief anonymous articles by staff, each with suggestions for further reading and local action. Later the manual became a set of separate articles for bulk purchase or downloading, making them easy to insert into church bulletins or literature racks. Also sold annually at low cost to dioceses were an inspiring poster and a full-color brochure. Suggestions for prayer and liturgy, including Mass petitions, were included. October was named Respect Life Month, when these materials would be highlighted and used.
Authorship of the articles also expanded. Gail commissioned experts on the full range of issues affecting human life, to encapsulate their wisdom in ways that rank-and-file Catholics could understand. 
In addition to USCCB staff, authors ultimately included Cardinals John O'Connor and Joseph Bernardin; moral theologians like Frs. John Connery, Albert Moraczewski, and Donald McCarthy; great legal minds like John Noonan and Thomas Marzen; medical experts like Drs. John Bruchalski and Joanne Angelo; and eloquent advocates like George Weigel, Fr. Richard Neuhaus, Olivia Gans, Janet Smith, and Russell Shaw. 
I was hired in 1980 to work on public policy, straight out of a doctoral program in theology, and became one of Gail's challenges. Patiently and skillfully, she taught me how to turn my paragraph-long sentences and multiple semi-colons into text that normal people could read. (Sorry about that previous paragraph, Gail.)
A life of dedication and admiration
In 1991 she became Executive Director of the USCCB's Secretariat for Pro-Life Activities, holding that post until she retired in 2006. She supervised the efforts of staff like Susan Wills, Helen Alvare and myself to educate Catholics, influence public policy, communicate with the general public, and advance pastoral care. 
Her foresight, wisdom and tenacity were greatly valued within the Church by scores of bishops with whom she worked, by diocesan pro-life staff and, notably, by the Vatican. Gail served as an official delegate of the Holy See at the 1994 United Nations Conference on Population and Development in Cairo and at the 1995 UN World Conference on Women in Beijing. 
Pope John Paul II named her a Dame of St. Gregory in 1995.
Outside the Church structure, however, she remained largely "unsung" because that is the way she wanted it. She made sure she had a competent and dedicated staff, then set us free to do our jobs. She helped us do them better, and countered opposition to our efforts (which at times could even come from inside the bishops' bureaucracy). And she was generously supportive to any employee who had financial or other difficulties, sometimes spending her own money to help.
She taught all of us to speak the truth in charity, on issues that could inspire bitter emotions. At times she would say a draft text was "too snotty" for our audience. We learned to review our work with an eye toward "de-snottification."
Not that she resisted pursuing bold ventures. Just the opposite.
She took the lead in getting a full-page ad published in the New York Times in 1995,when our opponents said pro-life groups were inciting violence by saying that abortion is killing. The ad condemned violence, while showing that abortion practitioners themselves have admitted that abortion killing. The Times editors used every trick in the book to try to refuse the ad, but Gail's calm persistence prevailed.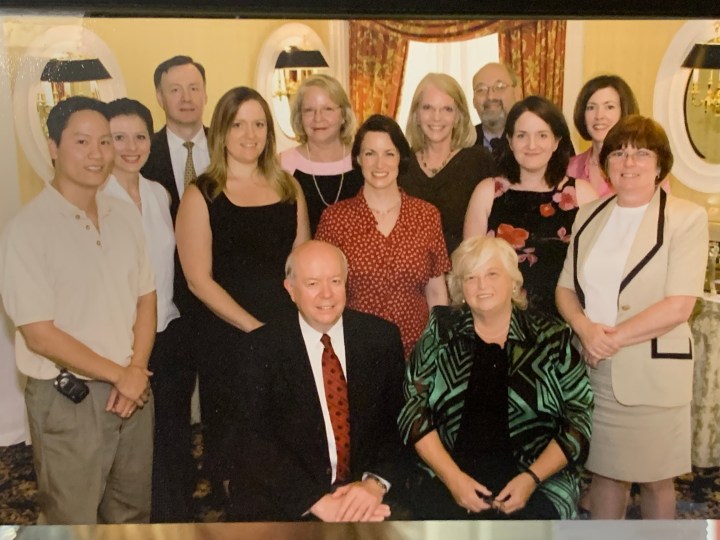 Rising to the challenge
In Congress, as well, the 1990s were a challenging and stressful time. Abortion supporters promoted the "Freedom of Choice Act" (FOCA), predecessor to the misnamed "Women's Health Protection Act" now pending in Congress. Like that bill, it ventured beyond the Supreme Court's decisions to treat abortion as a sweeping entitlement, attacking even modest laws upheld by the court. And President Clinton championed a health care reform act, predecessor to "Obamacare," that could require coverage of abortion as basic health care. Later in the decade Congress considered banning the grotesque procedure known as partial-birth abortion.
Gail saw that each challenge required more than letters and testimony from the bishops. Under her leadership we launched a massive grassroots campaign with the help of our sister organization, the National Committee for a Human Life Amendment, allowing Catholics around the country to have their voice heard. Literally millions of postcards were received by members of Congress, at one point shutting down the congressional post office by sheer volume. On health care reform we affirmed support for access to health care, but insisted that abortion must not be promoted as health care.
In the end, FOCA was defeated. After a bruising debate, the health care bill stalled because supporters refused to budge on abortion. Gail later bought a two-foot-high inflatable replica of the figure in Edvard Munch's painting "The Scream" for her office, telling us it was a souvenir of the health care debate. 
The partial-birth abortion ban was overwhelmingly approved by Congress, but the Senate narrowly failed to override President Clinton's 1996 veto. That first-ever federal ban on an abortion method was later signed into law by President George W. Bush — and finally upheld by the Supreme Court in 2007, the year after Gail retired.
Other congressional victories in which our office played a role included passage of the Unborn Victims of Violence Act, treating an attack on a pregnant woman as a crime with two victims; the Born-Alive Infants Protection Act, recognizing the child born alive during an attempted abortion as a legal person; and two federal conscience laws of 1996 and 2004, protecting health care providers from forced involvement in abortion – the Coats/Snowe amendment of 1996, and the Weldon amendment of 2004. These all remain in effect today.
In 1998, with Gail overseeing the staff work, the U.S. bishops overwhelmingly approved Living the Gospel of Life, applying the teaching of Pope John Paul II's great encyclical Evangelium Vitae to the U.S. and urging Catholics to help build a culture of life. Many see this as the most eloquent statement on defense of life the bishops have ever produced.
Meeting new pro-life challenges
These years also saw newer pro-life challenges: Human embryo experiments, embryonic stem cell research, use of fetal tissue from abortion in medical research, and physician-assisted suicide. On the last of these, Congress passed the Assisted Suicide Funding Restriction Act banning such practices from all federal health programs, and we assisted the Church in states facing legalization proposals. We played a role in passage of the Dickey amendment barring use of federal funds for research in which human embryos are harmed or destroyed. These laws, too, remain in effect today.
On other issues, we could only delay or halt our opponents' worst proposals and promote morally sound alternatives. We held that the alleged promise of approaches requiring destruction of human life were wildly exaggerated, which was later proved true. And we worked to educate Catholics and others on why these issues are important.
The Secretariat also worked to advance pastoral care in dioceses throughout the U.S.: assistance for pregnant woman and their children, palliative care for people with terminal illness, and so on. Under Gail's leadership the office took a more active role in promoting post-abortion reconciliation and healing, and began developing the first national training manual for priests on this ministry.
As Gail's subordinates, each of us worked on specific aspects of these issues. But she had the broader vision to see how each challenge required coordinating a multi-pronged response of advocacy, education, and caring alternatives, helping dioceses and parishes to develop programs advancing our goals. 
After retiring in 2006, Gail served for years as a valued consultant to the bishops' Committee on Pro-Life Activities. This May, weeks before she died suddenly, she of course read the Supreme Court's leaked draft opinion in the Dobbs case. Asked by a friend what she thought of it, she said "Well, I would have edited this."
I have little doubt that on appearing before our Lord, Gail was greeted with the words "Well done, though good and faithful servant." Scarcely anyone I have met would deserve it more.