Jesus is doing more than simply praising two virtues that are rare in today's world
What can God do in your life with one Bible verse a day?
Subscribe to Aleteia's new service and bring Scripture into your morning:
Just one verse each day.
Click to bring God's word to your inbox
Today's readings can be found here. Read Fr. Epicoco's brief reflections on the daily Mass readings, Monday through Saturday, here. For Sunday Mass reading commentary from Fr. Rytel-Andrianik, see here.
Jesus uses two images in today's Gospel to explain to us how the kingdom of God works: littleness and hiddenness. Put like this, he may seem to be simply praising two virtues that are rare in today's world, something reserved for a select few who are able to live this way.
However, Jesus explains well what existential implications such images have:
"What is the Kingdom of God like? To what can I compare it? It is like a mustard seed that a man took and planted in the garden. When it was fully grown, it became a large bush and the birds of the sky dwelt in its branches."
To explain littleness Jesus tells us about the reliability of a tree that doesn't immediately establish itself as a place that offers shelter, but has the patience to grow a little at a time. Only when we have the patience to nurture the things that matter can we become shelter. A relationship, for example, is nurtured by little things. Over time those little things make the relationship stable, reliable.
If an institution makes revolutionary changes too quickly, it's doomed to fail in a short time, but if it has the patience to implement slow but radical changes, then it can turn the whole situation upside down and become a help. Littleness, therefore, is the renunciation of flashy appearances in favor of valuing the gradualness of everyday things.
The second image is that of hiddenness:
"To what shall I compare the Kingdom of God? It is like yeast that a woman took and mixed in with three measures of wheat flour until the whole batch of dough was leavened."
Too often we think that hiddenness consists in concealment, but it means something else. It implies understanding that what ferments all the dough of life is a force that acts in the most hidden part of us and of reality. For example, if you have a great desire in your heart, this desire ferments your whole life. If you have a great passion in your heart, this passion motivates all your choices. Others cannot see your desire and passion, but they can see the consequences they produce.
The question is, what is in the most hidden part of us?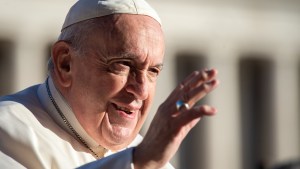 ~
Father Luigi Maria Epicoco is a priest of the Aquila Diocese and teaches Philosophy at the Pontifical Lateran University and at the ISSR 'Fides et ratio,' Aquila. He dedicates himself to preaching, especially for the formation of laity and religious, giving conferences, retreats and days of recollection. He has authored numerous books and articles. Since 2021, he has served as the Ecclesiastical Assistant in the Vatican Dicastery for Communication and columnist for the Vatican's daily newspaper L'Osservatore Romano.