Those seeking to better include persons with disabilities in the life of the Church say the horizon is a hopeful one, despite lingering challenges.
At his home in Saginaw, Michigan, 45-year-old John Kraemer spends hours each day at his craft and vocation — building elaborate models of Catholic churches, then filling them with figures for display at various parishes.
His materials are simple ones: brightly colored LEGO building blocks (about 25,000 of them) that have delighted children for decades. But the message offered by Kraemer — who has a mild form of cerebral palsy, along with visual and hearing impairments — is a profound one.
"My work is a prayer," Kraemer told OSV News. "I'm sharing my passion for the faith through the [LEGO] bricks. And the figures in the church include people in wheelchairs, power chairs . . . older people, service dogs."
The point, said Kraemer, is to show that "all are welcome in this church. … People often see themselves sitting inside the project, [which] … is not a reflection of the past, but a prayer for the future."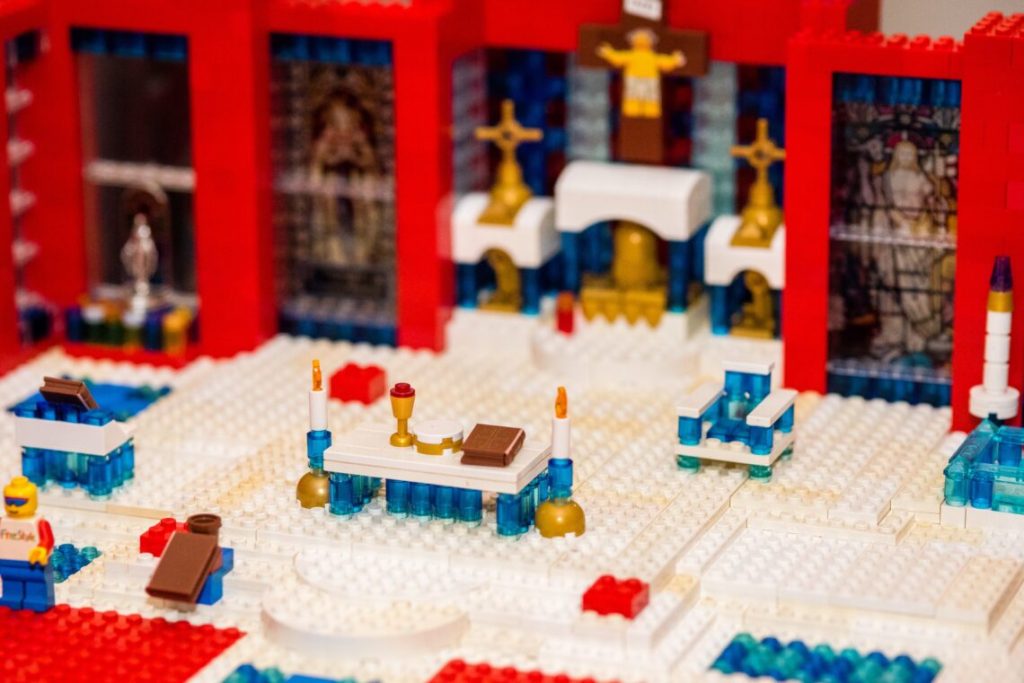 Danielle McGrew Tenbusch | OSV News photo/courtesy Mater Dei Academy
Those seeking to better include persons with disabilities in the life of the Church say the horizon is a hopeful one, despite lingering challenges.
"We're going in the right direction," Charleen Katra, executive director of the National Catholic Partnership on Disability, told OSV News. "There has been a lot of movement [forward] over the last couple of decades."
"I feel like we are making pretty good progress, and what makes my heart happy is to see parishes [aware] that this effort to include people with disabilities is part of the everyday mission for the Church," said Immaculate Heart of Mary Sister Kathleen Schipani, director of the Archdiocese of Philadelphia's Office for Persons with Disabilities and former chair of the NCPD board of directors.
According to the Centers for Disease Control (CDC), some 26% (or 1 in 4) of adults in the U.S. have some type of disability. Overall, 11.1% have serious difficulty with mobility, 10.9% experience significant issues with cognition, 5.7% are deaf or hard of hearing, 4.9% have a vision disability and 3% have a self-care disability that impedes dressing or bathing.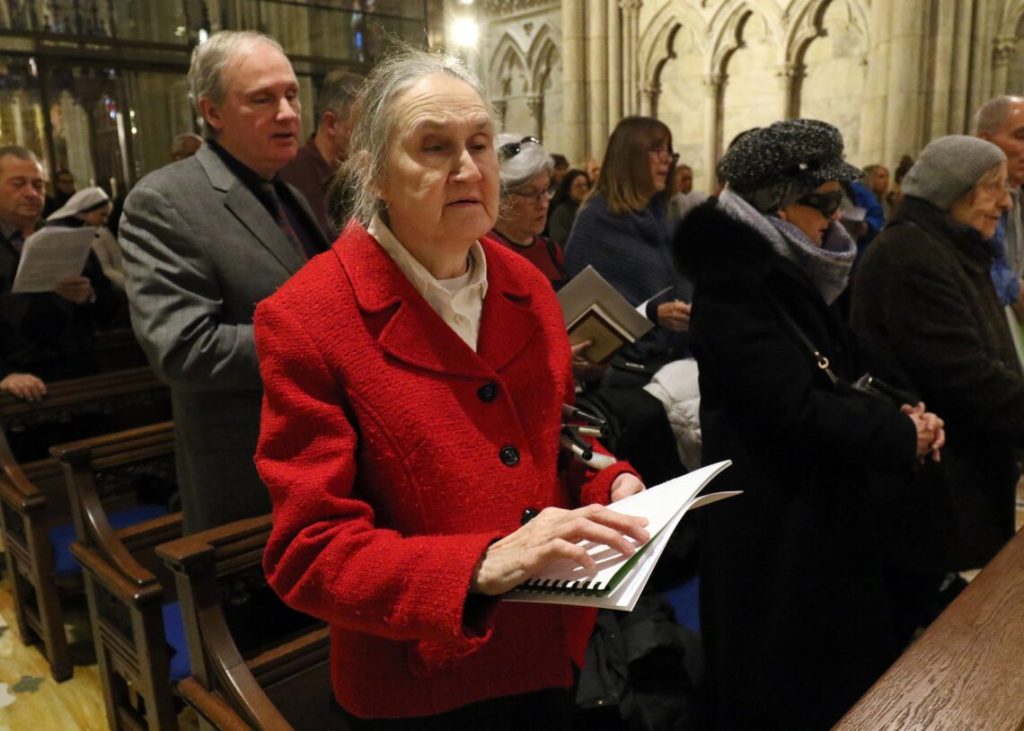 Gregory A. Shemitz | OSV News photo/Gregory A. Shemitz
Both Katra and Sister Schipani told OSV News the continental phase of the 2021-2024 Synod on Synodality, with its various listening sessions, helped to highlight the concerns and insights of this significant demographic within the Church.
"The synod was a good first step," said Sister Schipani. "The process was particularly helpful, especially listening to the stories of people with disabilities and to how they see the efforts of the church. The only way we make progress is by listening to the stories."
When voices of persons with disabilities are heard, pastoral approaches "[move] from inclusion to belonging," said Katra.
She has submitted a proposal to the U.S. Conference of Catholic Bishops asking them to embrace that perspective by issuing a new pastoral statement on persons with disabilities, one that updates the bishops' original document in 1978.
"My suggestion for the new one is to focus more on abilities than disabilities, and … a sense of belonging, at every level of human feeling and experience," said Katra.
Greg Shemitz | (OSV News photo/Greg Shemitz
Instead of being an initiative for a few qualified specialists, pastoral ministry to persons with disabilities should involve "every member of the church [so that] … all people have access, feel welcome and specifically know they belong within the church, and have access to the life of the Church," said Sister Schipani.
From that viewpoint, persons with disabilities can be seen as "agents of evangelization, not a subject of evangelization," said Katra. "Their vocation is to serve the Church, not to be served."
We need greater investment
Both she and Sister Schipani pointed to several areas where pastoral ministry to those with disabilities requires greater investment.
Catechetical and faith formation materials still need to be made more accessible, said Sister Schipani, who is 2017 developed and released the "Religious Signs for Families" app to help deaf children and family members learn to pray in American Sign Language (ASL).
"We still see that some prominent publishers don't caption their multimedia," she said, adding that simply relying on adaptive technology to bridge the gap is insufficient.
"Ask someone who is actually using adaptive technology," said Sister Schipani. "For people who are deaf, you can use automatic captioning, but it doesn't do a good job with the religious terms. So taking that extra step expresses that we're keeping in mind people who are deaf and hard of hearing, and that they're cherished members of our community."
The Word on Fire Institute's creation of the Venerable Jerome Lejeune Fellowship — designed to raise awareness of the importance of those with intellectual and disabilities in both the church and the culture — was a positive sign from a key provider of faith formation content, she said. Named after the French scientist who identified the genetic cause of Down syndrome, the inaugural fellowship is currently held by Mark Bradford, founding president of the U.S. branch of the Paris-based Jerome Lejeune Foundation and the parent of an adult son with Down syndrome.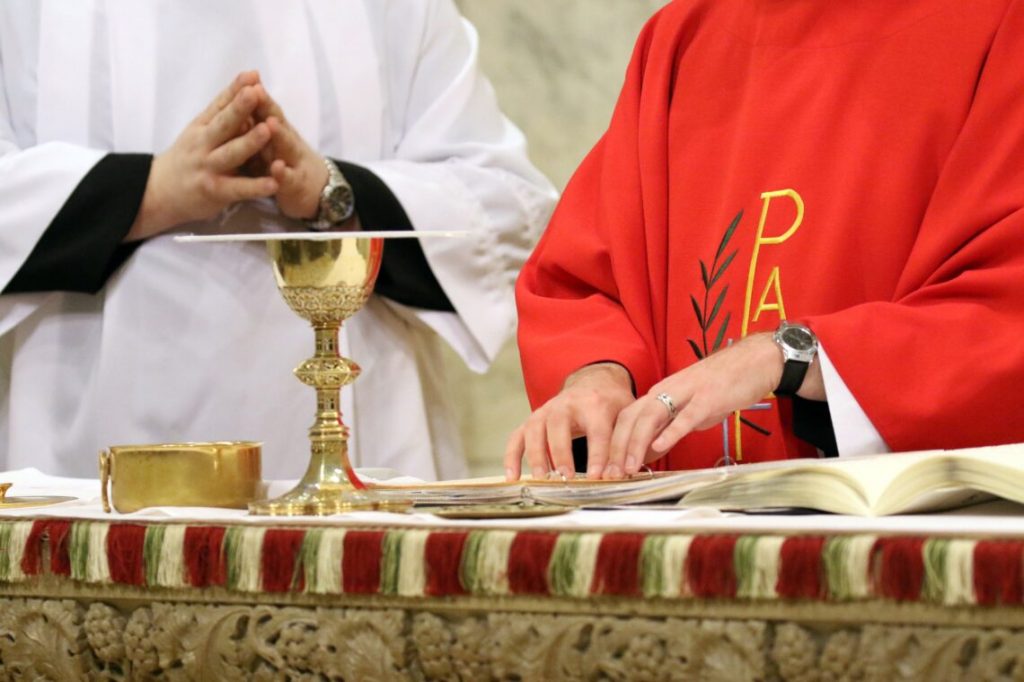 Greg Shemitz | OSV News photo/Greg Shemitz
Making Catholic schools "more inclusive for children with intellectual disabilities" also is vital, said Sister Schipani. "A fully segregated school for special education is not a trend that has a future, and research bears that out."
A 2018 study by the National Council on Disability titled "The Segregation of Students with Disabilities" found that "inclusive education results in the best learning outcomes."
Offering welcome to those with mental illness, Alzheimer's, and dementia is increasingly important, especially as the number of affected individuals grows across the nation, said Katra.
From 2019-2020, close to 21% U.S. adults — more than 50 million — were experiencing a mental illness, according to the nonprofit Mental Health America. The CDC estimates that by 2060, the number of cases of Alzheimer's disease, the most common form of dementia, will rise in the U.S. from just over 5.6 million to 14 million.
"The parish can be and should be a place of hope," said Katra. "It behooves the church to be that safe place, that home for people to come and be accepted where they are, so we can as Pope Francis says so beautifully … journey with them to a better place."
Kraemer said that is the goal of his brick-by-brick labor of love.
"As I'm building, I'm praying on the life of the Church, of our parish communities … especially after COVID, when we took major hits," he said. "I pray that people would make the Mass a priority, that more people would be willing to explore their talents, and use them as a way of evangelizing like I do."