Keep reading to find out where Pope Francis will be stopping during his trip to Mongolia from August 31 to September 1, 2023.
Pope Francis will go on his 43rd trip abroad, this time to Mongolia from August 31, 2023, to September 4. This will be the first time a pope will visit this vast landlocked country situated between Russia and China. His five-day journey will take him over 5,100 miles east of Rome, to the Mongolian capital, Ulaanbaatar, the only stop on the trip.
The country is in the UTC+ 8h time zone, and is therefore six hours ahead of Rome. This means that the Pope's arrival in the Mongolian capital at 10 a.m. on September 1 will take place at 4 a.m. Rome-time. The times given in the article are in the local times.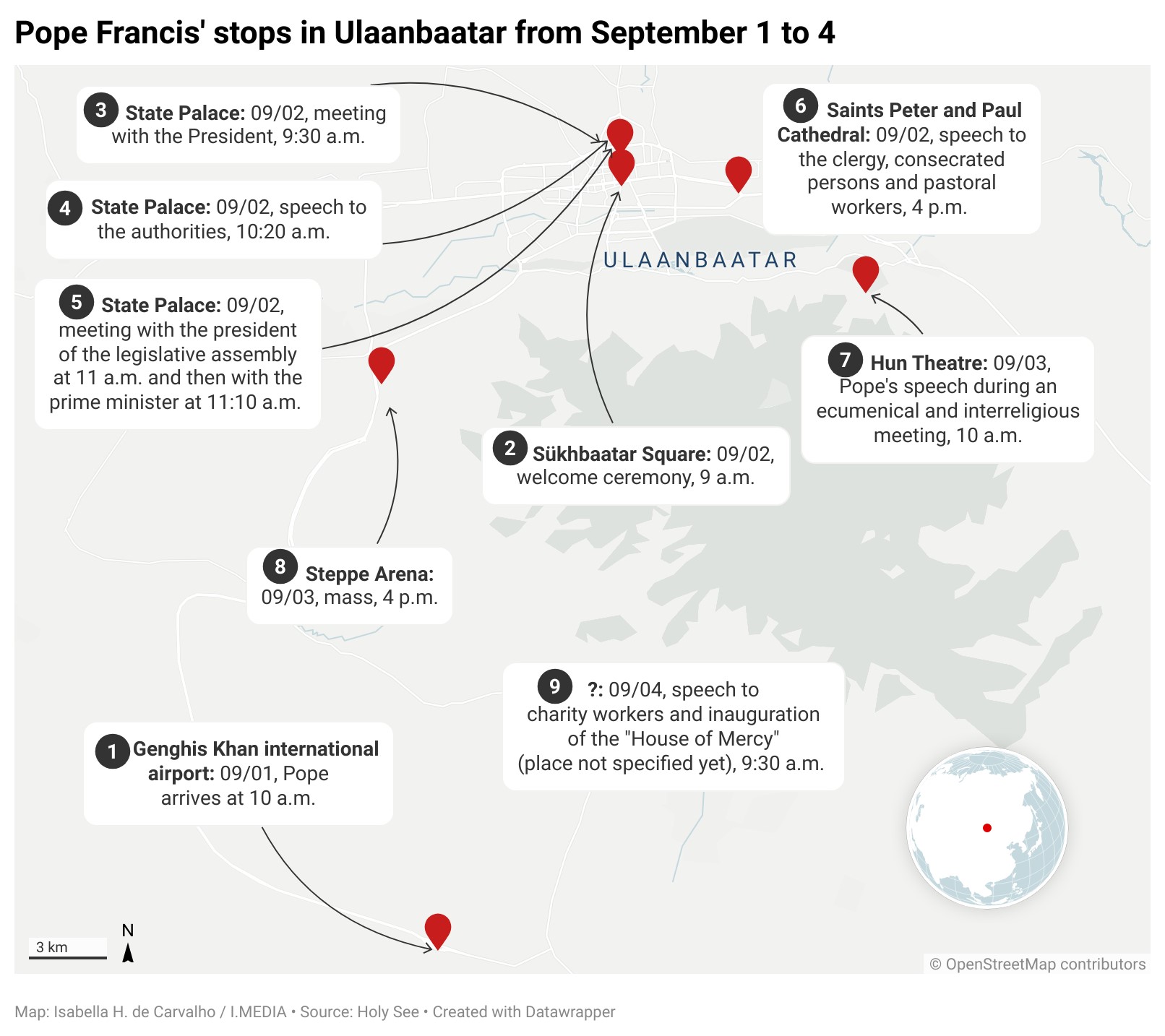 Isabella H. de Carvalho / I.MEDIA – Created with Datawrapper
Thursday August 31 and Friday September 1, 2023
On August 31, the Pontiff will take off from Rome-Fiumicino airport at 6:30 p.m. (UTC+2) on an ITA Airways flight to Ulaanbaatar. After a flight of more than 9 hours, he will arrive at his destination the following day, on September 1, at 10 a.m. (1) local time (UTC+8) – or 4 a.m. Rome time.
There will be a welcome ceremony at the Genghis Khan International Airport. However, this will be the Pontiff's only activity for the day.
Saturday, September 2, 2023
The following day, September 2, Pope Francis will take part in a welcome ceremony in Sükhbaatar Square at 9 a.m. (2). This will be followed by a courtesy visit to the President of Mongolia, Ukhnaagiin Khürelsükh, in the State Palace at 9:30 a.m. (3). The Pontiff will then address, as he usually does, the country's authorities, the diplomatic corps, and representatives of Mongolian civil society. This event will take place in the State Palace's 'Ikh Mongol' hall at 10:20 a.m. (4).
At 11 a.m., the Pope will meet briefly with Gombojavyn Zandanshatar, president of Mongolia's legislative assembly, the State Great Khural, in the State Palace. He will then meet Prime Minister Luvsannamsrai Oyun-Erdene at 11:10 a.m. (5).
After this official and diplomatic sequence, nothing is scheduled until 4 p.m. That is when the Pope will meet with the country's only bishop – Cardinal Giorgio Marengo, Apostolic Prefect of Ulaanbaatar, and Mongolia's priests, missionaries, consecrated persons and pastoral workers in the Saints Peter and Paul Cathedral. On this occasion, he will deliver his second speech (6).
(Cardinal Marengo is the Church's youngest cardinal and was named a cardinal in 2022.)
Sunday, September 3, 2023
The following day, Sunday September 3, the Pontiff will take part in an ecumenical and interreligious meeting at 10 a.m. in the Hun Theatre, during which he will deliver his third speech (7). At 4 p.m., he will celebrate mass in the city's stadium, the Steppe Arena, and pronounce a homily (8).
Monday, September 4, 2023
September 4 will be the Pontiff's last day in Mongolia. At 9:30 a.m., he will meet with charity workers and inaugurate a House of Mercy (9) in a location yet to be specified. He will also deliver his fourth and final speech.
Then, at 11:30 a.m., he will make his way to the Genghis Khan International Airport for a brief farewell ceremony. His plane, again chartered by ITA Airways, will take off at 12:00 p.m. and travel for over 11 hours before arriving at Rome's Fiumicino airport at around 5:20 p.m.
During the trip, the Pope will deliver a total of four speeches and one homily.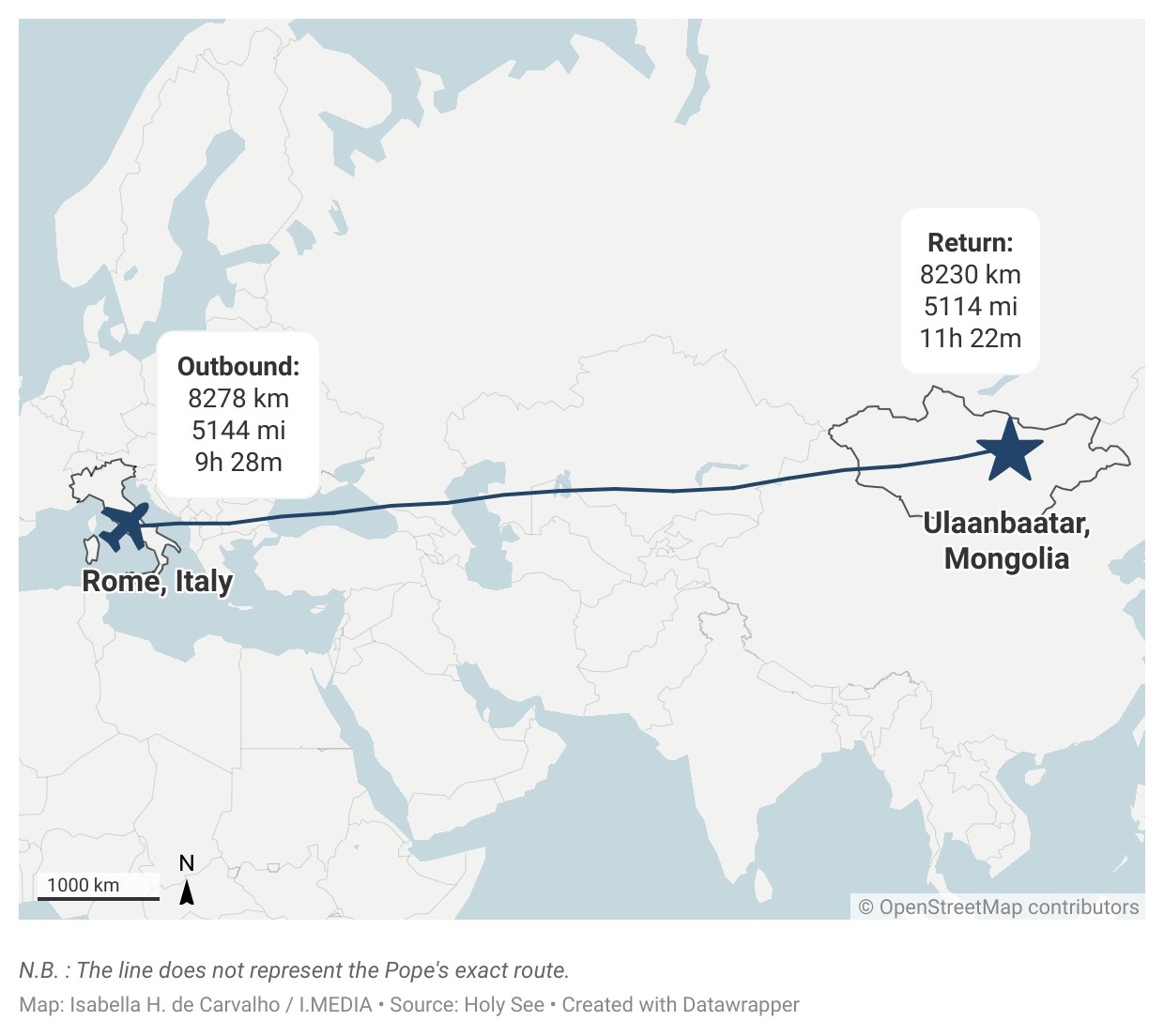 Isabella H. de Carvalho / I.MEDIA – Created with Datawrapper