Well, it's official. For the first time since (I think) 2010, there are three active and potentially destructive hurricanes, fully formed, in the Atlantic and (for now) heading toward us.
There are preparations and precautions that must be taken when such storms are upon us, and we'll have something on that, coming up. But in the meantime, let's pause for a moment and consider what is before us — what is currently bearing down on islands with fewer resources and less funding than we enjoy in the United States, and may soon add to the burdens over a million people are facing in the wake of Hurricane Harvey. And let us not forget (though they're not getting much press) the people in the Pacific Northwest who are dealing with catastrophic wildfires all over the place: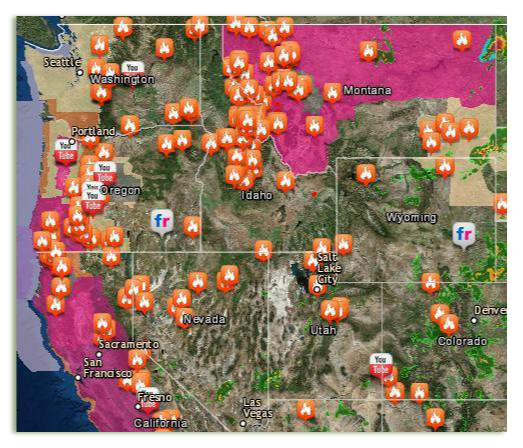 Here at Aleteia, we've already shared a prayer for sheltering from hurricanes and heavy storms.
Right now, though, in the face of all that is before us — floods and fires, tempests and conflagrations, and an overwhelming sense of uncertainty in a deeply divided land — it feels like we could use another prayer. We can't have too much prayer, can we?
O God,
Creator and Sustainer of all that lives and moves and has being,
Lord, the ones you love are fearful and uncertain, feeling beset on many sides…
Manifesting Assent who brought forth earth, wind, fire, and sea to style the landscape,
Lord, the creation you ordered is roiling with furious and deadly powers…
Inspiration of all that forms our passions within us,
Lord, our souls, gifted with free will, are bereft of Wisdom, and foundering…
Father, we perceive that centers are not holding,
that sensibilities are being flung far and wide,
like possessions tossed to the gales,
and that hard-won human understanding
is being fed to flames by the handful.
Your angels have told us "do not be afraid."
But we are mere humans, distracted creatures,
too short-sighted to see as you see,
too limited to understand what you know,
and so we are fearful, still.
In our uncertainties we reach out to you,
like children seeking a reassurance
that all shall be well.
Help us to remember that all of your purposes
are to the good,
and that while we may not always understand this,
we can trust in it.
We ask your blessings upon all of us,
for those facing the tumult of loss,
and for those who can only watch in helplessness;
for those under threat of terrorism,
and for those who would terrorize;
for those encountering oppression,
and those who would oppress.
For upon your blessings are formed
the beginnings of Wisdom, sorely needed,
and the promptings of Charity,
for the good of others before ourselves.
Lord, we beg that your restless world may be tamed
by the simple act of our prayer,
offered in trust for all of your creation
with good will toward your creatures:
For the peace of Jerusalem, pray:
"Peace be to your homes!
May peace reign in your walls,
in your palaces, peace!"


For the love of my brethren and friends I say: "Peace be within you." For the love of the house of the Lord I will ask for your good. (Psalm 122:6-9)