On the Feast of the Ascension we celebrate the love God has for us.
What can God do in your life with one Bible verse a day?
Subscribe to Aleteia's new service and bring Scripture into your morning:
Just one verse each day.
Click to bring God's word to your inbox
Had Jesus remained on Earth after his resurrection, what a proof it would have been for the skeptics! What comfort for the undecided! How insulting for the cynics! But as Jesus Himself said to his disciples: "Nevertheless I tell you the truth; It is expedient for you that I go away: for if I go not away, the Comforter will not come unto you; but if I depart, I will send him unto you" (Jn. 16:7).
So, why is his "absence" a "gift"?
A new way Jesus rejoins us
The first reason is the gift of the Holy Spirit. It has transformed us into the children of God and untied us to Jesus. With the gift of the Holy Spirit, Jesus has shared with us his treasure: the loving bond with the Father. Now, we can find Jesus deep in our hearts and minds and become the sons and daughters of God.
Christ comes into our hearts in a new way. He reassures us that the joy we feel in finding him will not be taken away from us. (Jn. 16:22).
Jesus opens for us the path for a truly loving relationship with Him
The second reason is offered to us in the story of Mary Magdalene. Few days before the Passion, Mary was shedding tears at Jesus' feet. She "anointed them" with her hands and wiped them with her hair, covering them with perfume and kisses. On the morning of His Resurrection, Jesus told the same Mary: "Don't hold on to me!"
The way we find Jesus after the Resurrection is not the same as it was during his earthly life. It'sa new bond based solely on the act of faith. We can even claim that the reason why Jesus didn't "stay" with us in his physical body is so we can enjoy a truly loving relationship with Him.
Jesus remains with us in the Blessed Sacrament
The third reason is given to us in Luke's "On the road to Emmaus."The disciples asked their mysterious companion to stay with them. So, Jesus agreed to join them for the evening meal. He took bread, blessed it, gave it to them and vanished.In doing this, Jesus fully satisfied the desire of his disciples: by actually remaining with them in the Eucharist.
His physical absence has transformed into his actual living and tangible presence in the Blessed Sacrament. He dwells in the tabernacle of every church on Earth, because … He will be with us until "the very end of age"! (Matt. 28:20).
Fr. Nicolas Buttet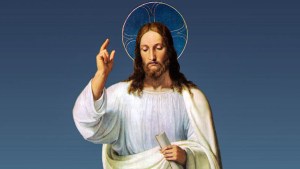 Read more:
The Ascension is a celebration of two promises
Read more:
What the Ascension teaches us about our bodies