Don't underestimate the powerful meaning of this gesture of love.
What can God do in your life with one Bible verse a day?
Subscribe to Aleteia's new service and bring Scripture into your morning:
Just one verse each day.
Click to bring God's word to your inbox
Sometimes kissing is undervalued, cheapened, or standardized — imitating what everyone else is doing, to seduce, to play at being an adult, or as an instrument for one's own pleasure. And yet, in every romantic gesture there lies something very serious. 
What happens to those in love is like what happens to chess players
A kiss is too beautiful to be wasted. How can you deny its intensity, the impact it has in all human relationships? Gestures are a wonderful way of communicating: they make our most intimate and intense feelings visible and palpable. We need look no further than at players in a stadium who have just made a goal!
Believing that a gesture of love has no consequences is naive. The gesture modifies the relationship. There is a singular difference between desiring and doing. Carrying out desire means passing into action. Making an amorous gesture means changing something in the development of the action. Going from loving glances to innocent caresses, from caresses to kisses, from kisses to the sexual act, is passing a threshold that often makes it impossible to turn back. What happens to people in love is like what happens to chess players: once a piece is moved, the play is done. Hence the need to go slowly and prudently to keep the decisive move on a proper hold. 
When a kiss holds consequences for the future
No matter how much a gesture has a normal place in a steady romantic relationship that it nourishes, fortifies, and celebrates, it should be offered prudently in a relationship. There are too many people who are kissed and then jump to the conclusion that the person who gave the kiss  is madly in love with them, and that it's forever. "Why did you kiss me if you weren't serious?" a woman might say on the day her boyfriend breaks up with her. A kiss is often seen as a sign of commitment. 
A kiss can upset us, provoke guilt, mark the future, and bring out toxic comparisons. It definitely makes breakups harder. And the further you've gone, the harder the separation. Breaking off a platonic relationship is hard. But after exchanges of passionate kissing, breaking up is worse. When the relationship has come to a full culmination it is extremely difficult. And after months of living together, it is the hardest of all, practically the same as a divorce.


Read more:
A few tips for parents of a teenager in love


Of course, we needn't over-dramatize the possible consequences of romantic gestures like a kiss. Nevertheless, if we consider it more or less "just like anything else," that may be a sign that we've over-trivialized it. Lacking any significance, it loses in quality what it gains in quantity. The best kiss, says one young man, is not the biggest but the one that best says "I love you."
Three conditions for a kiss to become a true symbol of love
If we want rich, gratifying gestures of love, full of pleasure and joy, three things are necessary:
There has to be meaning: gestures that express authentic love. 

There has to be a demand for truth: it is important that body language should work with the language of the heart, not be in contradiction with it; this will save the relationship many misunderstandings.

There must coherence: take a step back to see if your gestures correspond to your feelings.
With just these three conditions, a kiss can become a beautiful symbol of love, a sign that is both given and received. Believing in love, in its joys, and all it brings with it, means respecting its signs, its rites, and not falling into imitations and profanations. 
A kiss is a marvelous gesture, that's why we shouldn't use it for other purposes or think of it as a game; it should be used properly. It is an exchange that represents our deepest interior. Loving means living for the other (that is what it means to give yourself over) and living through the other (being welcomed in by the other), and the kiss is a marvelous sign of that. It's no surprise that the Church Fathers called the Holy Spirit "the kiss of the Father and the Son"!
Denis Sonet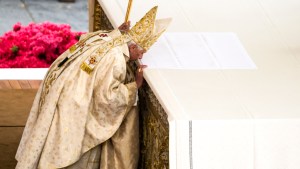 Read more:
This is why the priest kisses the altar at Mass