Transmitting an interest in music to kids is not that difficult if we know how to do it.
What can God do in your life with one Bible verse a day?
Subscribe to Aleteia's new service and bring Scripture into your morning:
Just one verse each day.
Click to bring God's word to your inbox
How do we transmit a passion for music to children? Mother, organ player, and music teacher Marie-Pierre Picot offers parents advice.
How can we help our children discover beauty through music?
By engaging the child's emotional side. When you take your child to a concert, invite their best friend along! If they discover a new singer at a friend's house, give them the album as a present. Explain why you like a certain kind of music and tell them the story that a certain song makes you think of. I also explain to children why I don't like certain types of music. And the same for painting: when I look at a painting, I can say that I like its colors, for example, but that I don't understand what the painter wanted to convey.
What kind of music is best to start with?
I think you have to propose all kinds of music and very often! You can, for example, take the children to auditions at music schools, go to Christmas concerts and orchestra productions. Moreover, there are large audiences in these places and they can experience intense applause and appreciation. What happens in a concert hall is important and the child can sense it. We often take our children to concerts, even our little 4-year-old who falls asleep with his teddy bear after 15 minutes. Above all, don't wait until adolescence to start: teenagers are too critical. As for musical choices, they are all good, from classical music to popular music like the Beatles.
In short, you have to give children the opportunity to experience very intense musical emotions. When I was 5 years old, I heard a lady sing. She was wearing a red dress, and I still remember it, because she was the one who made me want to be a musician. But be careful, don't make it too much. Also, they should feel free to like whatever kind of music they choose.
How do you react when a child becomes passionate about a current musical trend?
When a child discovers a popular artist, you can ask them if they admire that singer, if they think they are intelligent, if they would like to meet them. The important thing is that the child should think about why they like one singer or another. We have the right to say that we don't like something without needing to say that it's horrible.
You have to understand that teenagers are on the lookout for idols, that they need to be part of a clan and that they like what the clan members like. The freer you feel to choose your stars, the faster you will get rid of them if necessary! And beware of the spirit of contradiction: if you tell them that an artist is bad, they will more staunchly defend their choice. You should give your children the freedom to like the music they want but, at the same time, orient them towards other icons. For example, invite them to listen to singers of our generation, to give a good link to earlier music.
How can we prevent our child from becoming obsessed with one style and having novariety?
You have to be very calm about children's tastes, because they change, all in due time. Maturity conditions taste. For example, when you're 5 you like to drink apple juice and at 40 you like good wine. We might even say that "bad taste" is an obligatory phase … Actually it is not a question of bad taste, but of progression: as a child, I liked Offenbach before I came to adore Bach.
Can everyone appreciate music?
You don't have to be a connoisseur to appreciate music. You just have to learn to fantasize about music without being afraid to say the things that go through your mind, knowing how to translate a musical emotion into words. It is also important to help children think about different interpretations. My children, for example, realized that one interpretation could make them dance while another interpretation of the same music had no effect on them!
But no doubt some music needs a bit of explaining?
Obviously. An intellectual or scientific approach provides great musical emotions. My mother showed me a sonata by César Franck. I had to listen to it a lot to enjoy it. The Pentecostal Mass of Messiaen is less accessible than Clayderman's. But there are effects in music that you could compare to the effects of light in watercolor.
What advice do you have for parents whose children want to play an instrument?
The essential thing, in my opinion, is to entrust the children to a teacher who is very kind and compassionate. There is an immense emotional part in learning music. My daughter, who is working on a cello piece, tries hard to play it the same way her teacher does, because there is a strong chemistry between them. Later on, she will be able to put more of herself into it: a good teacher is also someone who wants the student to grow. If the child is respected, they feel free to play their instrument. Indeed, playing is showing yourself as you are.
That's why I don't hesitate to say that the first thing is not choosing the instrument, it's choosing the teacher. If no strong relationship is established with the student, it is better not to insist. In the long run, a bad teacher can even be "toxic" to a child with real musical talent.
Bénédicte de Saint Germain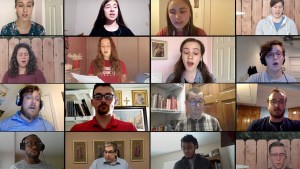 Read more:
Young adult choir revives the sacred music of the Renaissance