How can we still believe in God's Providence when we are confronted with the challenges of life?
What can God do in your life with one Bible verse a day?
Subscribe to Aleteia's new service and bring Scripture into your morning:
Just one verse each day.
Click to bring God's word to your inbox
Mourning, miscarriage, break-ups, unemployment, loneliness, serious illness … hardships are inseparable from human existence. But each time they happen it seems like life has betrayed us, that we have been yanked out of our peaceful bubble, seeing what we have tried so hard to build collapse, the image we had of ourselves shaken to the core. In addition, the believer is confronted with a test of faith: "You may have the feeling that God is absent and does not support you," notes Nathalie Sarthou-Lajus in Cinq Éloges de l'épreuve, cinq regards croisés sur ces males qui creuser en nous la relève de la grâce [Five Praises for hardships, five different ways to consider how those difficulties bring us to grace].
To get through an ordeal, first you have to shout, cry, protest …
"My God, my God why have You forsaken me?" The cry of Jesus resounds in every human tragedy: "I thought I had a special connection, a closeness to God and suddenly, there's only silence, abandonment," notes Olivier Belleil, member of the Word of Life community, author. and preacher. "After the death of my husband," confides Isabelle Rochette de Lempdes, "it seemed impossible to live without him, impossible and even unthinkable. And yet …" Once you are over the initial shock, what is there to do but endure?
Wanting to get back on track immediately is an illusion: getting back up is a long road. "The first step is to recognize you have been defeated," says philosopher Martin Steffens. "To get through the ordeal you first need to yell, cry, protest. And not bounce back immediately." The psalms are filled with these tears and protests. Beginning with the De profundis: "From the abyss I cried out against you …" Notes Olivier Belleil, "The Bible allows man to experience this protest. It is not a question of blasphemy, but of saying that it is intolerable." Job goes so far as to ask God: "Why are You my adversary?"
To denounce the ordeal that has struck us, to name it, to see it in all its terribleness is a proof of realism. "We have to recover from the ordeal, but to get through it, we have to start by experiencing it," says Martin Steffens. "It's not by denying reality that you overcome it." So let's stop always trying to be positive, as we are often told: losing a loved one, assisting a sick child, seeing a business go bankrupt. It hurts and we can't immediately accept it.
Acceptance is not resignation
Prolonging this stage would risk locking us into a deadly attitude, like sitting by the side of the road and not moving forward when the race is far from over. Regaining a taste for life means accepting one's legacy. "So as not to become embittered, to know true peace," recalls Agnes. "At the beginning of my bout with cancer, I had to put all my energy into saying yes to this disease that was eating away at me, I had to accept it." Acceptance does not mean morbid resignation or indifference: "The challenge is to be open to all of life," analyses Martin Steffens, "to learn to create a melody of happiness even if it's in a different key than what you were expecting." Accepting a child's disability, accepting that he or she must live with a thorn in his flesh, can take a whole lifetime, with all its ups and downs. The path is not linear. It requires an inner change.
Isabelle Rochette de Lempdes quickly realized that, in order to accept, she had to give up certain behaviors, renounce the "why" about the death of her husband, and the "ifs": "If Bruno were still here …" So many dead-end sentences that were "true poison, they prevented me from moving forward," she concludes. In the ordeal, the only thing that depends on you is the way you take, the way you deal with it. "The rest I have to accept," adds Martin Steffens. "Most often without understanding. What God is asking us to do first is to trust Him completely," continues Isabelle Rochette de Lempdes, "to believe that there is a meaning to this ordeal, to accept not being able to understand it and to totally put ourselves into the Father's arms."  It is a grace, a fruit of prayer, especially that of others.
Two passages from the Gospel can help us make this act of faith. The verses of the calmed storm: "Jesus is in the boat," comments Olivier Belleil, "but he does not act immediately, nor how and when we would like him to." And: "Peter walks on the water," continues Olivier Belleil, "but seeing the strength of the wind, he becomes afraid and sinks. In hardships, the process is the same: if I only see my difficulty, I sink; if I look at Jesus, if I trust him, I can walk on the water, continue to live and move forward." Jesus, in his Passion, evolves from a feeling of abandonment where He cries out to his Father, to confident abandonment, at the hour of his death, "Into your hands I commend my spirit." The preacher concludes: "This way of Jesus, on the Cross, should be ours in our hardships."
New habits and resources for a new beginning
Accepting does not mean you are emotionally relieved. It will be necessary to take time to recover, to endure the gray days necessary for healing. It requires patience and hope, a willingness to exist and to do what life itself does. "Being reborn does not mean erasing everything and starting all over again," says Nathalie Sarthou-Lajus, "it means living a new beginning, with all our scars that remain like the stigmata of Jesus. Some scars cannot be erased."
There are some specific exercises that can help us move toward healing. Brigitte suffered from a severe depression: "Every day, I set myself the goal of making it through to the evening. I lived, day by day, trying to leave all my anxieties with God when I went to bed." Tomorrow is another day, it is often said. Isabelle Rochette de Lempdes goes even further: "I decided to apply myself to perceiving and welcoming in the multitude of graces that fill the day. So, closing my eyes to everything that was wrong and grasping the little things, I was able to rediscover joy."
Another thing that is very important is the attitude you choose to adopt in relation to your wounds. Recognizing yourself as a victim of an ordeal is one step, but remaining a victim does not allow you to move forward. There is the danger of existing through your misfortune and using it to justify everything. Caroline, who has two children with cystic fibrosis, confirms this: "I decided not to complain anymore. I am not responsible for this ordeal, but for what I do with it."
On this road, others are there with us, clumsily perhaps but present. Agnes remembers the many little signs of friendship that her friends sent her during her illness: "I relied on this friendship. It brought me relief from my suffering." It is up to us to find strength in our loved ones, but also in the Holy Spirit. "There's a reason they call him the Consoler," notes Olivier Belleil. "Many people have experienced it by finding peace of heart in the midst of a stormy situation."
Reading the Bible is an invaluable source of support: it puts all our hardships into words. I am struck by the language of the Lamentations," continues Olivier Belleil, "or the prophets who, while living in closeness to God, sometimes show in their suffering an explicit desire for death. Many psalms begin with cries and end with praise. Let us make our life a psalm …"
Brother Philippe Raguis, a Carmelite friar in Toulouse, writes:
"If the grain does not die, it does not bear fruit. I have the deep conviction that now more than ever before our personal struggles are clothed with a dimension of participation in the cross of Christ. It is He who will give us the strength to continue our journey."
This is the condition for true peace. "When Jesus is resurrected," notes Olivier Belleil, "the stigmata have become glorious wounds: they allow light to pass through."
Florence Brière-Loth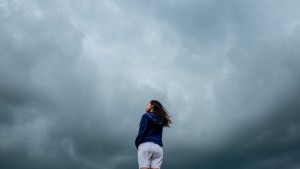 Read more:
What St. Leo the Great can teach us about confronting unexpected challenges