Fear of failure, past wounds, the future ... Scripture speaks to the most common things we're afraid of.
What can God do in your life with one Bible verse a day?
Subscribe to Aleteia's new service and bring Scripture into your morning:
Just one verse each day.
Click to bring God's word to your inbox
Fear can become our worst enemy when it enters our lives in its different forms. Yet, once identified, it can be defeated by the word of God. As St. Paul reminds us in his 2nd Letter to Timothy, "It is not a spirit of fear that God has given us, but a spirit of strength, love and poise." Here are 8 fears that can haunt every one of us and the solutions the Bible provides to combat them.
1
Fear of God
If you are afraid that you are not enough in the eyes of God; afraid that you will not be able to enter into a deep relationship with Jesus; afraid that God will not grant you spiritual gifts; afraid that God will not speak to you or listen to you; or afraid that God will not forgive you, read the First Letter of John:
There is no fear in love. But perfect love drives out fear, because fear has to do with punishment. The one who fears is not made perfect in love. (1 Jn 4:18)
2
Fear of others
If you are afraid of other people's eyes and opinions; afraid of being rejected by those close to you; afraid of authorities; afraid of being inferior; afraid of confrontation; afraid of failure, open the book of the prophet Isaiah:
Listen to me, you who know right from wrong, you who cherish my law in your hearts. Do not be afraid of people's scorn, nor fear their insults. (Is 51:7)
3
Fear of insecurity
If you have been afraid of not understanding God's will and not responding to His call, or are afraid to commit yourself; afraid to be generous with your money; afraid that God is asking too much of you; or afraid to pray in a public place; you will find the answer in Deuteronomy:
Your life shall hang in doubt before you; and you shall fear night and day, and shall have no assurance of your life. In the morning you shall say, "I wish it were evening!" and at evening you shall say, "I wish it were morning!" for the fear of your heart which you shall fear, and for the sight of your eyes which you shall see. (Deut 28:66-67)
4
Fear of living according to the Gospel
Are you afraid of persecution? Afraid of paying the price for following Jesus? Afraid of the action of the Holy Spirit or afraid of spiritual warfare? Perhaps it is fear of the reality of demons that haunts you? Or are you afraid of the Sacrament of Reconciliation or that God's promises will not be fulfilled? Read Psalm 23:
Even though I walk through the valley of the shadow of death, I will fear no evil, for you are with me; your rod and your staff, they comfort me. (Ps 23:4)
5
Fear of failure
If you are afraid of falling back into your sins or temptations; if you are afraid of never getting married or, on the contrary, experiencing a marital crisis and getting divorced; if you are afraid that your children will not succeed; if you are afraid of professional failure; if you are afraid of disappointing your parents or others; you will find an answer in Isaiah:
Don't be afraid, for I am with you. Don't be dismayed, for I am your God. I will strengthen you. Yes, I will help you. Yes, I will uphold you with the right hand of my righteousness. (Is 41:10-13)
6
Fear of events
Are you afraid of conflict or receiving bad news? Afraid of difficult times or that a member of your family will be hurt or killed? Afraid that your financial situation will flounder and the worst will happen? Read Psalm 112:
Surely the righteous will never be shaken; they will be remembered forever. They will have no fear of bad news; their hearts are steadfast, trusting in the Lord. Their hearts are secure, they will have no fear; in the end they will look in triumph on their foes. (Ps 112, 6-8)
7
Fear of your past
Is your past haunting you? Are you afraid to confess your past sins? Are you afraid to be ashamed of your past or that it is preventing God's work in your life? Are you afraid that God will punish you for what you did years ago? Open chapter 54 of the book of Isaiah:
Do not be afraid; you will not be put to shame. Do not fear disgrace; you will not be humiliated. You will forget the shame of your youth and remember no more the reproach of your widowhood. (Is 54:4)
8
Fear of the future
If it's your future that gives you cold sweats — fear of loneliness, despair, death, illness, the death of a loved one, of missing something — read the book of Proverbs :
When you lie down, you will not be afraid. Yes, you will lie down, and your sleep will be sweet. Don't be afraid of sudden fear, nor the desolation of the wicked, when it comes: for the Lord will be your confidence, and will keep your foot from being taken. (Pr 3:24-26)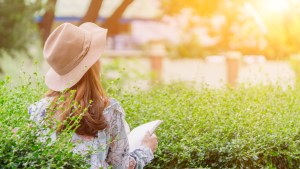 Read more:
7 Compelling Bible quotes that show our future will be bright